FRANCE: Tram-train services on a 64 km route linking Nantes and Châteaubriant are launched by SNCF on February 28.

Opening on 28 February a new tram-train service is now operational on the reopened regional railway between Nantes and Châteaubriant. The railway has been renovated totally after the closure for passenger service at 31 May 1980. Rolling stock is the Citadis Dualis, already operational at the mainline railway between Nantes and Clisson and at two regional railways in the south of France operating from Lyon St Paul station to Brignais and to San Bel. Renovation costs have been 210 million euro excluding 60 million euro for 12 tram-train vehicles. Operation costs will be 5,2 million euro annually excluding the maintenance costs of the rail infrastructure. An interesting feature is the level crossing between tram-trains of SNCF and local trams of Nantes tramway operating company TAN. This crossing is claimed to be unique in France. Daily 48 tram-trains and 220 trams will pass this crossing in both directions. Track layout, overhead configuration and signalisation have been designed and built specifically to this location. First photo displays a coupled tram-train unit ready for departure in the new built Haluchère-Batignolles stop
The tram-train service will use part of a former Nantes – Rennes railway route which originally opened in 1877. The Nantes – Châteaubriant section closed to passenger traffic in 1980 and to freight in 2008. This section has now been completely modernised in preparation for the tram-train services, with the track replaced and the 11 stations gaining new platforms, shelters, ticket machines and car parking.
Tramway signalling has been fitted, except at Nantes station, and automatic half-barriers have been installed at 30 level crossings, with 11 crossings closed.
The modernised line is designed to be suitable for use by conventional SNCF trains, including works trains, but no freight operations are planned. In contrast to the shared running on the Mulhouse tram-train service, the Nantes tram-trains will not use the city's urban tram network, which is operated independently by Semitan.
Two dedicated platforms electrified at 25 kV AC have been built at Nantes station. After leaving the station, tram-trains will run through the suburbs on a 15 km double-track alignment with 750 V DC tramway electrification. This parallels a Semitan tram line, and shares five level crossings which follow tramway practice in having warning lights but no barriers. Near Haluchère-Batignolles station the Semitan line crosses the tram-train route on a flat crossing.
From Babinière the line will operate as a railway, with 25 kV 50 Hz electrification and a maximum speed of 100 km/h. At the terminus a buffer stop separates tram-trains from the 62 km Châteaubriant – Rennes section of the former through route. This lies within Bretagne and has been unaffected by the project, with SNCF X2100 diesel multiple-units operating seven return trips a day.
Alstom has supplied 24 Citadis Dualis vehicles for the tram-train route, equipped with a toilet and more comfortable seats than conventional trams as the end-to-end journey takes 1 h 07 min. There will be seven return trips a day over the full length of the route, with higher frequencies between Sucé-sur-Erdre and Nantes where there will be services every half hour in the peaks and hourly at other times. Haluchère-Batignolles will be served by 46 tram-trains a day. Ridership is predicted at 11 200 passengers/day
Project funding, €m

Pays de Loire region

62·5

31·5%

Loire Atlantique department

54·0

27·3%

National government

35·3

17·8%

EU sources

21·0

10·6%

Nantes

20·3

10·3%

SNCF

5·2

2·53%

Total cost

198·3
Combining the best of trains and tramways
The challenge
The urban fabric now extends well beyond the city centre, with regional and urban networks tending to merge. Users' needs are changing. They want to be able to move with ease from the city centre to neighbouring towns without having to change their transportation mode.
The Alstom solution
Introduced in Germany with the Regio Citadis, the concept of the tram-train has since been enriched by the Citadis Dualis model. This mode of transportation permits seamless daily journeys between city-centres and suburban centres.
Tram-trains benefit from the latest Alstom innovations
…to ensure seamless travel without load changes between city centres and suburbs
Tram-trains run equally well on tramway networks and on regional rail networks (compatible power tension on wires, signalling and wheels),
Alstom tram-trains have a reinforced structure in the event of a crash that conforms to the latest safety standards,
Its collapsible coupling enables better shock absorption in stations.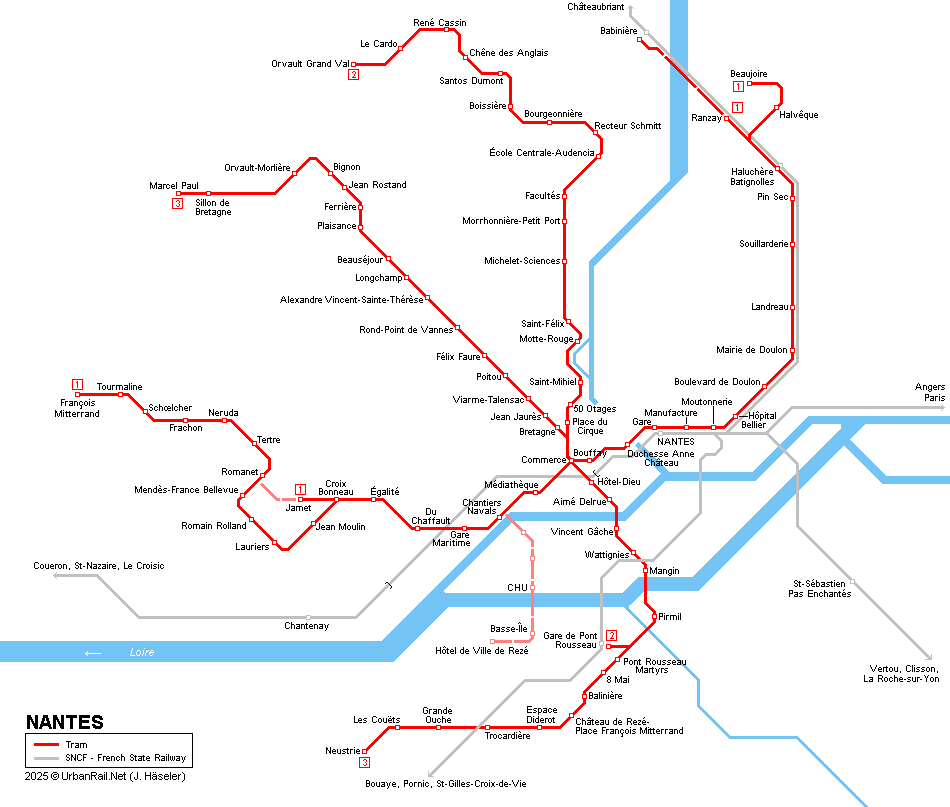 Until now, Ottawa invested in BRT to move transit customers into the city. This of course to an operationally expensive transit system as employee costs can be as much a 80% of a transit system's budget.
(Ottawa's bus photo's courtesy of Mr. Haveacow)
With BRT, buses jams were frequent and city streets became congested with buses.
Congested busways tend not to be very efficient in moving people.
Congestion extended to the busways and the transit system began to buckle under the sheer weight of buses used.
To alleviate bus congestion and associated diesel pollution, as well as reducing operating costs, Ottawa is now building with modern LRT, using European style modular cars, built by Alstom of France.
Whilst the cost of building with LRT is much higher than building busways, especially if  subways are built, the operating costs are much lower (not so much lower when including subways) as one modern tram and one driver, is as efficient as six buses and six bus drivers. Even someone doing calculations on the back of an envelope can understand the economy of operating modern light rail.
Now a memo for those who want a Broadway subway. The preceding pictures show the level of bus congestion needed before transit authorities begin to plan for light rail. On Broadway with a B-line bus every 3 minutes or so does not indicate a need for a subway, rather it indicates a need for better management. Current bus flows along Broadway warrant an economy LRT line and nothing more and of course when ridership demands more service, modern LRT can meet the challenge affordably.
The Moonbeam Line is an apt name for the for Vancouver Mayor, Gregor Robinson's pet Broadway subway project, as the subway planning has a foundation of stuff and nonsense.
This hokum  that a subway would be of "national significance", is pure hoopla, from a mayor eager to spend vast sums of other people's money for his city to satisfy his land developer friends needs for profits; especially if those profits need to be subsidized by the regional taxpayer.
As always, transit planning in the metro Vancouver region is all about politics and rewarding political friends and the transit customer and the taxpayer be damned.
This also begs the question; "Do we really want regional mayors running the transit system?"
Alison Bailey February 28, 2014 News Radio 1130

Robertson's subway pitch is about prestige: LRT advocate Mayor of Vancouver says Broadway corridor subway would have national impact

LOWER MAINLAND (NEWS1130) – It's all about political prestige; that's what people pushing for a rail connection between Vancouver and Chilliwack say about claims from the mayor of Vancouver that a subway line along the Broadway corridor would have a "national" impact.

"The ridership on Broadway just does not need a subway," says Malcolm Johnston with Rail for the Valley. "Subways need large passenger flows to justify the construction costs."

The group would rather see bus service improved.

Johnston says while the B-Line service along Broadway is full, the trolley bus service is not. He argues excess capacity isn't being utilized.

"We could modernize our trolley bus fleet, bring it up to a modern standard and have stops maybe every 400 metres apart instead of every 200 metres apart; that speeds up the service."

Johnston adds light rail should go in for higher capacity.

Mayor Gregor Robertson says a subway would help make Vancouver a global research hub, linking UBC to health science facilities. He's hoping to get $4 billion that's earmarked for projects of "national significance."

http://www.news1130.com/2014/02/28/robertsons-subway-pitch-is-about-prestige-lrt-advocate/
'The Transitway', in Ottawa, is one of the most successful Bus Rapid Transit Systems in North America. However with the increase of traffic and demand the Council has decided to develop the Bus Rapid Transit System into to a Light Rail Transit one. This 20 year plus expansion will start its first phase with the Confederation Line. A $2.1 billion investment which will have a 13 station LRT running over 12.5 km. By making it a P3 project it has reduced the tax payers cost benefits. This project should help the local economy, community and create thousands of new jobs.
This $2.1 billion transportation project, supported by the federal, provincial and municipal governments, is the largest single project ever undertaken by the City of Ottawa in regards to scope, size and complexity. The project, which is the first stage in Ottawa's planned 40 km light rail network, will see the construction of a 12.5 km LRT system including 3 km of tunnel under the downtown, and 13 stations, three of which will be in the tunnel portion.  Implementation of the new system will include converting portions of the existing Bus Rapid Transit to light rail (one of the first such undertakings in North America). It is being carried out under a Design-Build-Finance-Maintain delivery model.
Project Cost:  $2.1 billion  Project Size:  13.5 km   Project Duration:   7 years
Project Challenge: One of the biggest challenges of this project is to convert an existing Bus Rapid Transit route and tunneling through the downtown core of Ottawa to a new light rail system. There are many private properties, environmental, heritage and utility coordination issues.
Ottawa's Light Rail Transit (OLRT) project, will enhance that city's connectivity and create a greener downtown with a vastly improved streetscape.  This $2.1 billion transportation project, supported by the federal, provincial and municipal governments, is the largest single project ever undertaken by the City of Ottawa in regards to scope, size and complexity.  The OLRT system will take portions of the Bus Rapid Transit and convert them to Light Rail Transport (one of the first such undertakings in North America). ​
This project is the first stage in Ottawa's planned 40 km light rail network.  In 2011, Morrison Hershfield together with three (3) other firms making up Capital Transit Partners (CTP), a joint venture, was awarded the Preliminary Design and Project Management mandate by the City of Ottawa in support of the development of a 12.5 km (7.8 mile) Light Rail Transit (LRT) system to the city. It includes a 3.2 km (1.9 mile) tunnel under the downtown and conversion of the existing exclusive Bus Transitway from Blair Road in the East toTunney's Pasture in the West, to LRT. The OLRT project includes 13 stations, with three in the mined tunnel portion, one in cut and cover and the remaining at grade within the existing transit corridor. The project also includes a maintenance and storage facility to accommodate the new fleet of LRT vehicles.
The Plan:
The Confederation Line will be a significant part of OC Transpo's integrated transit network. It will connect to the existing Bus Rapid Transitway at Tunney's Pasture Station in the west and Blair Road in the east, and to the O-Train at Bayview Station. Together with a 2.5km downtown tunnel, this light rail system will move Ottawa faster and in more comfort than ever before.
http://www.confederationline.ca/en/the-plan/what/
Why
light rail transit?
http://www.confederationline.ca/en/the-plan/why/
The Confederation Line will launch with a planned peak capacity of
10,700 passengers per hour
in each direction, with potential to grow to over 18,000 passengers per hour in each direction by 2031.
With a tunnel through the downtown core, travel time between Blair Road and Tunney's Pasture Station will be
less than 24 minutes
—any time of day. Time saved is projected to provide a net economic benefit to the City of $276 million between 2019 and 2031.
Replacing bus and car trips with the LRT's zero emission electric trains, means reducing carbon dioxide by approximately
38,000 tonnes
per year by 2031—the equivalent of taking 7,300 cars off of our streets.
Light rail vehicles are significantly quieter than diesel-powered buses. Replacing buses with light rail, plus an underground downtown corridor, means a
reduction in both air and noise pollution
.
By 2021, the Confederation Line will produce a savings of $16M a year. These savings will grow as ridership increases, given that the system provides significantly greater capacity at a lower unit cost than is possible with buses.
Studies suggest that the speed, comfort, and reliability of LRT will lead to a
9% increase in ridership
. That means 4.6 million new trips in the first year alone—and fewer cars on our roads.
The investment in LRT is projected to generate more than
20,000 person-years of direct and indirect employment
, and provide a total economic output of approximately $3.2 billion.
What hutzpa!
The Broadway subway a transit project of national significance, really? I think Mayor Robinson thinks that the taxpayer are rubes.
According to our friend, Mr. Haveacow,  Broadway's peak demand numbers on average of 2000-3700 passenger trips per hour per direction, which is barely enough to support light rail, let alone a subway.
What about SkyTrain's lack of capacity and a $2 billion investment needed to increase  capacity on the SkyTrain ALRT/ART network? Are the SkyTrain and subway lobby's waiting to drop that little bombshell later.
Sorry Mayor Robinson, one tires of Vancouver's demands for billions of our tax dollars to build your fantasy subway, to keep up the image that Vancouver is a "world class city". Your hutzpa is getting very stale.
Modern LRT could provide ample capacity for Broadway, if only TransLink and the city of Vancouver were honest with their transit planning. Sadly, the SkyTrain centric planning at TransLink and City Hall as precluded any viable LRT plan for Broadway and with Vancouver's rejection of an elevated line along Broadway (SkyTrain was first devised to be elevated to mitigate the high cost of subway planning), leaves the subway option, the only option.
Vancouver mayor wants UBC subway line considered of 'national significance'
Getting federal money for the $3-billion line unlikely without such a designation, Robertson says
OTTAWA — The Harper government needs to be convinced that the proposed $3-billion Broadway subway line to the University of B.C. is a project of "national significance," Mayor Gregor Robertson said Wednesday.

Robertson, who was chairing a meeting of big-city mayors here, said a $14-billion, 10-year fund being promoted by the Conservative government is "woefully inadequate" to meet Canada's infrastructure needs.

That program has only set aside $9 billion specifically for big cities, with $1 billion earmarked for smaller and typically more Tory-friendly municipalities.

Another $4 billion is targeted for projects of national strategic significance.

Asked if there is enough federal money on the table to get the Broadway project off the ground, Robertson replied: "That depends on whether the additional $4 billion of national infrastructure money is on the table."

Cities, provincial governments and Ottawa typically cost-share major infrastructure projects.

Robertson said Vancouver will make the case to Ottawa that all Canadians would benefit from the subway.

Linking UBC to major health sciences institutions along the corridor, including the Vancouver General Hospital and the BC Centre for Disease Control, would advance Vancouver's ability to become a global research hub.

"We will see companies from all over the world coming to Vancouver if there's good connectivity," he said in an interview. "The cities we compete with globally in technology are well-connected and are invested in rapid transit, and we need to keep pace. So it will have a nationally significant economic impact."

A 2013 KPMG report commissioned by UBC and the city said the current bus system along the route is operating over capacity.

It also said there is little chance given constrains on the road to expand bus service to deal with an anticipated doubling of the population along the corridor over the next 30 years.

Cities like Toronto and New York have a "clear competitive advantage over Vancouver: they have a public transportation network that provides rail rapid transit between their major employment centres and their academic research facilities," the report noted.

Robertson's comments came after one of the more controversial gatherings of big-city mayors because it included, for the first time, Toronto Mayor Rob Ford.

Ford, who has in the past dismissed the Federation of Canadian Municipalities as an organization of left-leaning politicians who waste tax dollars, arrived in Ottawa to push for Toronto's "fair share" of transit funding.

Montreal Mayor Denis Coderre sneered at Ford's decision to attend, saying it would create a "circus" atmosphere. But Robertson said Ford, who spoke publicly to reporters Wednesday about his boozing and crack-smoking past, was a welcome addition to the lobby group.

"It's important to have Toronto at the table," he said. "It's been a distraction for some outside the room, but between mayors we're very focused on our priorities on housing and transit."
Have received the following statistics from an Aussie mate, who is resident in Europe.
| | | | |
| --- | --- | --- | --- |
| 1 | St Petersburg: tram 476 mill pax p.a., 205 route km. |  2 | Budapest: tram 393 mill pax p.a., 156 route km. |
| 3 | Prague: tram 324 mill pax p.a., 141 route km. |  4 | Warsaw: tram 270 mill pax p.a., 120 route km. |
| 5 | Moscow: tram 251 mill pax p.a., 163 route km. |  6 | Hong Kong: tram and light rail 245 mill pax p.a. |
| 7 | Vienna: tram and light rail 240 mill pax p.a., 240 route km. |  8 | Zagreb: tram 214 mill pax p.a., 148 route km. |
| 9 | Zurich: tram 202 mill pax p.a., 126 route km.  | 10 | Melbourne: tram 191 mill pax p.a., 250 route km. |
| 11 | Brno: tram 188 mill pax p.a., 139 route km. |  12 | Yekaterinburg: tram 180 mill pax p.a., 180 route km. |
| 13 | Berlin: tram 173 mill pax p.a., 192 route km. |  14 | Stuttgart: tram/light rail 170 mill pax p.a., 192 route km. |
| 15 | Dresden: tram 145 mill pax p.a., 134 route km. |  16 | Istanbul: tram 140 mill pax p.a. 22 route km |
| 17 | Gothenburg: tram 140 mill pax p.a., 144 route km. |  18 | Leipzig: tram 134 mill pax p.a., 148 route km. |
| 19 | Amsterdam: tram 130 mill pax p.a., 138 route km. | 20 | Bordeaux: 127 mill pax p.a.; 44 route km |
| 21 | Brussels: tram 124 mill pax p.a.; 139 route km | 22 | Paris: tram 114 mill pax p.a., 75 route km. |
| 23 | Strasbourg: 110 mill pax p.a.; 55 route km | 24 | Toronto: tram 105 mill pax p.a., 150 route km. |
| 25 | Munich: tram 104 mill pax p.a., 79 route km. | 26 | London: Docklands Light Railway 100 mill pax p.a. 400 route km |
| 27 | Montpellier: 100 mill pax p.a.; 63 route km | 28 | Nantes: 97 mill pax p.a.; 42 route km |
| 29 | Lyons: 91 mill pax p.a.; 78 route km | 30 | Marseilles: 33 mill pax p.a.; 12 route km |
| 31 | London:  [Croydon] Tramlink tram 34 mill pax p.a.; 28 route km; | 32 | Manchester: tram 32 mill pax p.a. 77 route km |
Which light rail  projects should we be watching this year? Here are just 5 of the many projects developing around the world.
They are at different stages and may have different reasons you should keep an eye on them, for example, to find out who will land major contracts or what will happen when it comes to construction and land development.
Total Rail – Investment & Development in Rail for operators, investors & developers
Mr. Havecow is a transit professional from Eastern Canada, who has studied our transit system and of course SkyTrain. His findings certainly point to the fact that the public have been inundated with porkies, big and small, from TransLink , The City of Vancouver, and other retread politicians and academics who are clinging to the SkyTrain subway dream. Until there is both honesty and clarity by TransLink and the city of Vancouver, we must assume that claims that would support a SkyTrain subway are dubious in the extreme.
"Remember, these big numbers for passenger flows that are being in my opinion, carelessly bandied about by people who want a subway are boardings not trips."
Over to you Mr. Haveacow.
Many thanks to those whom answered my questions. Using the 2012 ridership for the bus routes that were provided to be by Translink then converting their boardings numbers into actually trips, as well as using the basic Logit Toronto B model for the calculation of flows and the CUTA Model for the calculation of various bits of info used in figuring out transit capacities, various job distributions and weightings, I came up with the following numbers about the Broadway Corridor.

Keeping in mind that, numbers from any mathematical model must be verified with on sight observations and the formula ranges adjusted and recalculated over a period of years to be considered fully true. Also that, I don't live in Vancouver so, observations and recalculations to match observed views has to be done by Translink, they have the staff and time, plus no one was paying me to do this for them so the week it took to crunch these numbers is my time lost (however anyone wishing to throw a donation my way should know that it will be gladly accepted by me and the bank that holds my mortgage).

The Broadway Corridor averages 56652-64153 trips per week day. The maximum daily trips number given with all of the variable inputs favoring transit was 75710 trips per day. Using the mean trips per day range, 27.8% of all trips in the corridor come from passengers transferring from surface routes. 65.2% of all trips are generated from transfers from either the Canada or Expo Rapid Transit Lines and roughly 7% comes from within the corridor.

Most likely because of the University, the PM peak period has a 2-10% greater travel flow than the AM flow. This is usually reversed for most North American cities. Remember that this is just for this corridor not the whole Vancouver Area so the normal transit trip distribution could still be true.

The distribution of trip origins and destinations is very muddled in this corridor due to the distribution of large trip generators like City Hall, Rapid Transit Lines, VCC, UBC, Vancouver General Hospital Campus (including the cancer centre), the density and distribution of commercial properties and the residential properties. Again I would like to thank Doug from Translink for his data sets in this regard.

Overall as was observed by Rico, a range of 28-42% of trip origins and destinations were west of Arbutus with a median value around 34.3% mainly due to the university campus. The information provided by Translink also showed that, the seat/standing room turnover rate peaks east of Arbutus, then sharply declines the closer you get to UBC. This means that the majority of pass ups by buses should peak the closer you get to UBC because fewer people are giving up their seat or standing room on the buses.

The data from Translink also showed an interesting thing about the functional capacity of the bus routes. I have argued before that anyone can with enough info, calculate the maximum capacity of a transit vehicle. What's really needed is how close does the service get to its capacity before the majority of passengers refuse to get on, look for other transport alternatives or delay their trip in some way to avoid peak travel times. I have been working on a model with primarily one other person that, given some standard imputs will predict this activity. What is shocking to me that income had very little effect on this as well as age. We seem to like are consistent travel patterns and are very reluctant to change them once we find something we are comfortable with. What is interesting about this corridor is that, on average once transit vehicle occupancy gets to about 75-83% of stated capacity, people traveling in this corridor start to find other choices. For an area like Vancouver that relative to other cities has an average range of 82-88% of capacity tolerance, which is high, this is very low level of crowding. It maybe due to the large amount of bags and packs that university students tend to have to carry on a daily basis but, that is a only a guess.

The amount of service in the peak periods varies in this corridor from 15 to 22 transit vehicles per hour per direction due mainly to the Trolley Bus network running buses on part of the corridor then going in other directions at various points. Due to that last fact the maximum passengers per hour per direction flow has a wide variance. As mentioned before the flows are slightly higher in the PM peak period (which is unusual) but still close. When transfers from other surface routes are considered the median range across the corridor varies from 1935-3705 trips per direction per hour. The maximum peaks were 4539 trips/hour/direction in the PM peak from Arbutus to Granville and 4705 between Main and Fraser during the PM peak hour. At no point did the flow exceed 5000 trips/hour/directions, on a standard work day. I thank all the people who helped me in this endeavor, there were many.

Oh yes, the flow diagrams showed that bunching of vehicles is quite common in this corridor which can give the impression of a greater number of vehicles in service than is actually true. Plus the nature of trolley buses being tied to their lines and having only a limited ability to by pass other vehicles contributes to the bunching. However, I have seen them move around smaller vehicles in heavy traffic in Vancouver as well as Edmonton and Toronto (when they had them). It all depends on operator confidence and pole length used.
Followed by this little nugget…….
One also must be careful about using future demand numbers as a reason for rail rapid transit. What my modelling showed was that the peak hour numbers are manageable by BRT or LRT lines and that a below grade light subway/metro is currently overkill. What needs to be addressed IMHO is the non peak crowding which can be handled by either more standard bus services or a conversion to a real BRT/LRT system on this corridor. Remember, these big numbers for passenger flows that are being in my opinion, carelessly bandied about by people who want a subway are boardings not trips. When you convert them into actual passenger trips the numbers become up to 40% smaller. I have seen people on this website and others claim that Broadway will garner up to 200,000 passenger trips a day by 2030, this is a ridiculous claim considering that, right now the entire system only gets 723,547 passenger trips a day (1,176,500 boardings a day). If Broadway currently accounts for less than 10% of the systems daily total then they are predicting a huge increase for the entire system by 2030. Now it is a busy corridor there is no denying it, but certainly not really ready for a very expensive below grade light subway/metro line. Even the Evergreen Line is only predicted to have 55194 boardings a day (17,000,000 a year) by 2021, that's about 35,000 passenger trips a day. Considering the financial pressure both capital and operating expenses, that Translink is currently under, a  2-3 billion dollar line on a corridor that even when everything favors transit at most gets 75,000 passenger trips a day, but averages 56-64,000 a day is at best, not advisable at the moment. Perhaps a lower cost system like LRT or a real BRT line (not the current BRT lite system) is what is really needed in this corridor.
Light Rail for Liveable Cities
A UITP POSITION PAPER
In countries where tramways had survived the massive closures of the 50's and 60's,
e.g. Germany, Switzerland, Belgium, many remaining systems have been modernised
and upgraded and may now be called "light rail systems".
In many other countries, where tramways had disappeared from the streets,
completely new systems have been developed since the mid-70's. This was the case
in North America, in the Asia-Pacific area and in a few European countries such as
the United Kingdom and France.
As a result, light rail systems can now be found on all continents. There are now over
400 light rail transit and tramway systems, in 50 countries. In addition, over 100 light
rail systems are being planned worldwide. 
Economic Benefits for the Wellington Region
A successful city is one that works well for its citizens, businesses and visitors. That means having excellent public transport as the preferred means of getting into and across the central city. For the Wellington region, using light rail in the tram-train mode is the way to provide an integrated high quality public transport network.
Cities and regions that have adopted light rail have gained economic benefits. Typically, the international experience has been that following the introduction of light rail there was a significant positive economic impact on jobs and business revenues. In addition, efficient public transportation is a recognised method of improving productivity and enhancing access to employment opportunities.
Modern light rail systems now operate in hundreds of cities worldwide and have generally proved to be a catalyst for improving local public transport networks. Light rail has proven that it can encourage development growth in areas better serviced by public transport and compliment land use and tourism policies.
For this reason, internationally, it is often the business community that is at the forefront of encouraging the adoption of light rail. Overseas experience indicates that properties that benefit from improved access because of proximity to a light rail system increase in value.
Positive benefit-cost ratio to adopting Light Rail
The major impediment to adopting light rail is the initial capital investment but  if Wellington were to adopt light rail there would be a positive benefit–cost ratio. The principal economic returns from adopting light rail would be:
Reduced congestions costs. Road congestion now imposes huge costs. These costs are faced by motorists directly but also by taxpayers who bear the cost of funding ever more roading infrastructure.  By relieving congestion pressures and eliminating the need for roading projects, such as the Basin Reserve Flyover, light rail would effectively fund itself!

Maximising the effectiveness of the existing rail network. Tram-trains would allow the full potential of the investment already made in the suburban rail network to be realised. This investment amounts to many hundreds of millions of dollars. The electrification and double tracking to Waikanae and the new Matangi Units would be even more valuable if greater rail use were encouraged by extending the reach of the rail network through tram-trains.

Reduced numbers of buses. Typically, a light rail is the equivalent of 4-5 buses     
Light Rail Transit in Hamilton: Health, Environmental and Economic Impact Analysis 
Hamilton's historical roots as an electric, industrial and transportation-oriented city provide it with a high potential for rapid transit, especially when combined with its growing population, developing economy, redeveloping downtown core and its plans for sustainable growth. This paper explores the health, environmental, social and economic impacts of light rail transit, a component of the City of Hamilton's rapid transit initiative. It performs a comparative analysis with other major North American cities that have successfully implemented this form of mass transit. The analysis concentrates on three main areas: urban development and land values, health and environmental impact and socioeconomic factors. The results of the research on light rail transit (LRT) and its possible benefits indicate overwhelming support for the economic, health, environmental and social benefits of LRT, especially when compared to other forms of transit, including rapid bus and local transit schemes. According to the results, LRT in a medium sized, growing city such as Hamilton should be considered a viable and desirable transit option; a catalyst for transit oriented, high density, mixed use development; an economically sound investment opportunity, providing a return on investment to property owners, businesses and the municipality; and a catalyst for social change, improving the health, environment and connectivity of the community.
Light rail achieves local and national objectives  
In Delivering A Sustainable Transport System, the Department for Transport explains that it aims to be modally neutral and to encourage policy which focuses on achieving the Government's objectives; supporting economic growth; tackling climate change; contributing to better safety, security and health, promoting equality of opportunity and improving quality of life. It is clear that light rail could play a vital role in achieving these objectives, for the following reasons: 
• Trams improve the image of a city and contribute to economic regeneration. A new tram is a visible, permanent way of showing that an area is being invested in for the future. It attracts businesses and tourists, and helps people access jobs and services. When KPMG was advising GMPTE on the Greater Manchester funding package, they ranked schemes against regeneration and jobs, and on this basis high density public transport such as Metrolink extensions came out best
• Trams reduce congestion in city centres by providing people with a quick, reliable, high-quality alternative to the car. They can reduce road traffic by up to 14%
• Trams help tackle climate change. Travelling by tram produces only a third of the CO2 produced from travelling by car
• Trams improve local air quality because they run on electricity so don't produce any pollution at the point of use. They are very safe and quiet, and they make cities nicer places to be
• Trams are very popular and encourage people to leave their cars behind. The number of people using trams has increased by 52% since 1999. On average, one in five peak hour passengers on UK trams previously travelled by car. At the weekends, half of the tram passengers used to travel by car. At least 22 million car journeys a year no longer occur in the UK because of trams. This means that trams are an effective way of cutting carbon emissions and congestion
Recent study results of subway-LRT investment costs posted on the Light Rail Now (LRN) site provide a sobering reality check on the cost issue.
Projects examined were an assortment of "recent urban rail projects (all from the 2000s), either completed or well under construction and fully budgeted." The report lists 24 subway and 13 LRT projects included in the analysis (in the USA and worldwide).
LRN's study found median investment cost to be nearly 9 times higher for subway construction projects than for in-street LRT.
"Basically, for a given amount of available funding, you can construct 7 to 9 times as much surface LRT as subway. Put another way: For available resources, you can have a far more comprehensive
rail system with surface LRT, many times the size of a system relying on subway construction."

For years, Austin's civic leaders and official urban rail planners have been trying to figure out how to raise more than $500 million in local and federal funding for a new-start surface urban rail project — 5-6 miles of light rail transit (LRT) running in relatively lower-cost surface alignments. Suddenly, at least some official interest has turned to ….building a subway instead?
This seems to be influenced mainly by two factors:
• An aversion or reluctance to shift urban public thoroughfare space away from apparently precious motor vehicle traffic and re-allocate it to public transit (rail in this case), and
• Insistent claims by several subway proponents (disputed by professionals and advocates of LRT) that subway construction costs are nearly the same as, or only slightly more than, surface LRT.
Projects examined were an assortment of "recent urban rail projects (all from the 2000s), either completed or well under construction and fully budgeted." The report lists 24 subway and 13 LRT projects included in the analysis.
• Only "full subway projects (entirely or nearly totally underground)" were examined in the study, including subway portions of LRT projects.
• Only surface LRT projects exclusively, or nearly totally, in street alignments were included ("to compare the most difficult, highest-cost type of surface construction with subway construction").
Summarizing the study results, LRN underscores the huge cost disparity between subway and in-street LRT construction, and the implications for a long-term rail expansion policy:
…for recent U.S. projects, subway construction has a median cost nearly seven times that of in-street LRT construction. Worldwide, the differential is nearly 9:1. And thats only comparing in-street LRT construction, not accounting for the possibility of, say, transitioning into an available railway alignment outside the city center, with far lower installation cost.

What this means is that, even if your community can somehow afford the initial financial commitment (even with federal assistance), expansion of your system will be severely attenuated. Basically, for a given amount of available funding, you can construct 7 to 9 times as much surface LRT as subway. Put another way: For available resources, you can have a far more comprehensive rail system with surface LRT, many times the size of a system relying on subway construction.