Idiots, what can I say, complete idiots, the pair of them.
SkyTrain is an obsolete proprietary light metro system, made obsolete by light rail! This has been known by all competent transit planners since the late 1980′s!
The proprietary SkyTrain system patents are owned by both Bombardier Inc. and SNC Lavalin. Again, well known by transit specialist around the world.
Today only 7 SkyTrain systems have been built, in the past 40 years and of these 7, only 3 are used seriously for urban transit. Not one new build SkyTrain has bee built in the past decade.
During the same period, over 200 new build LRT have been built and many more are under construction.
In revenue service, SkyTrain has proven to be not only more expensive to build, it is more expensive to operate and maintain. As well SkyTrain is extremely limited in capacity as Transport Canada's Operating Certificate allows a maximum capacity of only 15,000 pphpd. To increase capacity, which is needed to extend SkyTrain to Langley, over $3 billion must be spent rehabbing the existing lines.
The latest rejection of SkyTrain came from Ottawa, where their politicians did due diligence and sent a fact finding committee to Vancouver to research SkyTrain.
Langley mayoral candidates Peter Fassbender and Val van den Broek, by wanting SkyTrain built to Langley, are going to  increase taxes, to build with an obsolete light-metro that may be out of production by the time the planning is done.
Langley mayoral candidates Peter Fassbender and Val van den Broek are going to delay any sort of transit to Langley until the late 2030′s.
Langley taxpayer's are being advised by dishonest political wannabes.

Peter Fassbender says plans for LRT along Fraser Highway aren't 'based on reality.'

Jesse Johnston · CBC News ·
City of Langley mayoral candidates Peter Fassbender and Val van den Broek both prefer SkyTrain to LRT. (Atomic Taco, via Wikimedia Common)
There are plenty of issues that Langley mayoral candidates Peter Fassbender and Val van den Broek don't agree on, but they're on the same page when it comes to the biggest transportation project in the city's history.

Fassbender and van den Broek agree that when rapid transit is built from Surrey to Langley, it should not be light rail.

"I will take LRT if it comes down to it and that's all TransLink is going to go for, but I am definitely pushing for SkyTrain," van den Broek said.

"We'll have to talk to whoever is elected in Surrey because that's going to be a huge, huge item right off the bat."

In 2014, the Metro Vancouver Mayors' Council laid out its 10-year vision for transportation projects in the region.

LRT in two phases

The first phase of the plan calls for an LRT line that will run in an 'L' shape from Guildford to Surrey City Centre along 104 Avenue and then proceed along King George Boulevard to 72 Avenue.

The second phase includes a second LRT line that will run for 16.5 kilometres along Fraser Highway between Surrey and Langley.

Former Surrey mayor Dianne Watts and outgoing mayor Linda Hepner both advocated for LRT.

Fassbender says SkyTrain is a better option, even if it is much more expensive.

"Mayor Watts and then mayor Hepner both were passionate about at-grade rail and I don't think it was based on reality but based on a vision that they had for the downtown core of Surrey," Fassbender said.

"I didn't agree with them now and I don't agree with that direction now."
Patrick Condon is the James Taylor chair in Landscape and Livable Environments at the University of British Columbia's School of Architecture and Landscape Architecture and the founding chair of the UBC Urban Design program.
Prof. Condon is worth listening to, as he gets it about transit, which is a rare commodity with Metro Vancouver's academia .
Building with SkyTrain, has turned into the Canadian version of Lysenkoism, where there has been a grand distortion of the transit planning process, to favour pre determined political, academic and bureaucratic biases.
Definition of Lysenkoism: metaphorically describes the manipulation or distortion of the scientific process as a way to reach a predetermined conclusion as dictated by an ideological bias, often related to social or political objectives.
They're all aboard. But here's why we should pull the emergency brake.

By Patrick Condon Today | TheTyee.ca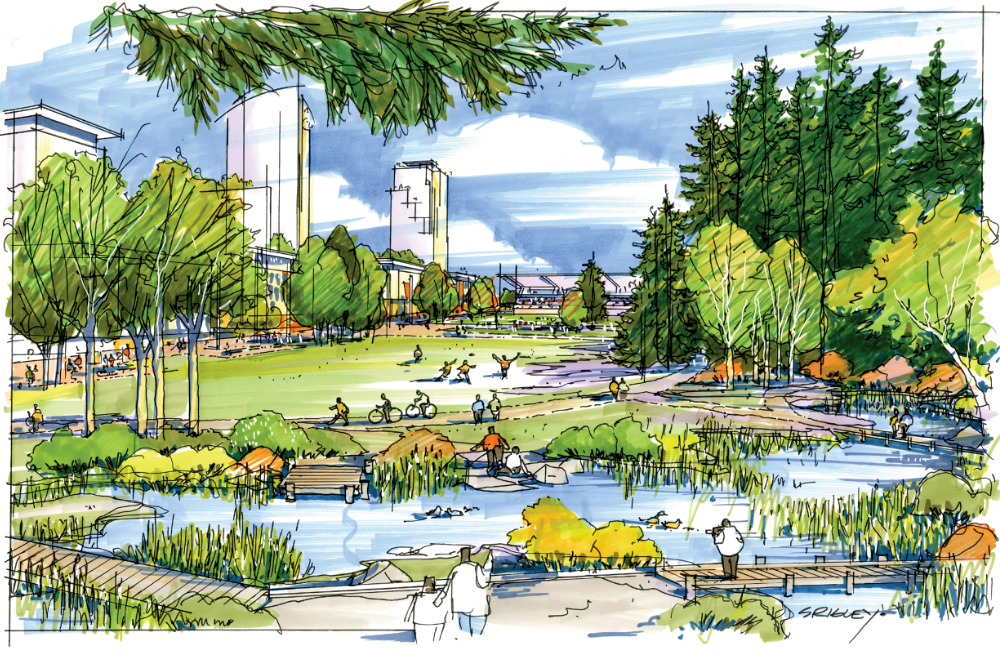 You might think a mega-project with huge cost risks would become a major issue dividing candidates who aim to be mayor. Not this time in Vancouver, where all four of the so-called leading candidates give at least weak support to extending all the way to the UBC, a Broadway subway that so far is slated just to run to Arbutus Street.

Some candidates are more fully on board than others. Mayoral candidate Shauna Sylvester seems the most wildly enthusiastic, saying that, "Once we start digging… we need to connect to (UBC)… you don't start and stop again."

Sorry, yes you do, if the gamble is too great, the price tag is too high, and the supposed reason for the project doesn't add up.

The price tag. The already-slated stretch of the Broadway subway, which would start at Commercial Drive and end at Arbutus Street, was supposed to cost $2.1 billion but now is pegged at $2.8 billion. Running it out to UBC could add $4 billion more, as we elaborate below. Perhaps a lot of Vancouverites aren't worried because they figure the feds or province are certain to cover almost all of it. They should worry.

The gamble. Three sources of funding are earmarked for the Broadway subway to Arbutus: federal, provincial and local — local meaning a combination of money from local taxpayers and TransLink, according to press reports. But as mayoral candidate Kennedy Stewart recently acknowledged, the precise mix of funding for the Broadway subway to Arbutus is not yet a done deal. Ottawa's share is not guaranteed until the federal budget is passed this spring. Even less certain is how the province and local funders might chip in. That's because we remain in the dark about who can lay claim to the region-wide transit focused development tax approved by the province. Is that development tax revenue money going to be credited to the local share or the province's share? We don't know.
This will be a game changer for transit and especially for Vancouver, where politic ans love driverless transit.
What this means is that the concept of driverless transit systems must be put on expensive elevated guideways or even more expensive subways, will fade to the history books as the autonomous tram will have the same advantages as automatic transit systems but at a lesser cost.
Unlike driverless cars or buses, driverless trams will be confined to their route, via the tracks, making the extremely safe light rail, even more safe.
Driverless Tram Will Get Debut Spin in Berlin
Siemens' autonomous tram will get a run in Berlin this month. (Credit: Siemens AG, Munich/Berlin)
Our weekly "New Starts" roundup of new and newsworthy transportation stories worldwide.
Driverless Light Rail Vehicle to Make Demonstration Run in Potsdam This Month
Driverless rapid transit trains have been around for decades. But driverless streetcars, like driverless cars, remain a technology in development. And now, as has been taking place for a little while with driverless cars and buses, the technology has advanced to the point where it's ready for some real-world testing.
The International Railway Journal reports that railcar manufacturer Siemens and the transit authority of Potsdam, Germany, will put an autonomous light rail vehicle (LRV) through its paces on a four-day demonstration run during InnoTrans, the biennial international transportation technology trade fair that takes place at the nearby Berlin ExpoCenter this year Sept. 18-21.
According to a Siemens press release, the vehicle is a Siemens Combino LRV that has been outfitted with multiple cameras, radar and lidar sensors that will deliver information about the vehicle's surroundings to an onboard computer that functions as the vehicle's "brain." The computer performs complex algorithms that spot hazards in the vehicle's path and determine the appropriate response, such as stopping for a wayside signal, stopping at a platform to pick up or discharge passengers, and braking for crossing pedestrians and vehicles.
The LRV will make its debut test runs in mixed traffic on a 6-km (3.73-mile) stretch of Potsdam's tram network. A longer report on the trial on the news site Smart Cities Dive states that the vehicle, which was built solely for testing purposes, builds on existing autonomous train technology Siemens has developed. The longer reaction times and stopping distances trains require have slowed the development of autonomous vehicle technology on the rails, according to the report.
What is interesting with this story is the matter of perspective comparing Vancouver and Toronto.
In Toronto, the 504 streetcar servicing carries around 80,000 riders a day in 2018.
In Vancouver, where a subway is being proposed for Broadway, as far as Arbutus and with some promoters wanting it to terminate at UBC; in 2012 75,000 risers a day used all the bus services to UBC!
The most heavily used service was the Broadway 99B express service, seeing 25,800 riders a day!
Allowing for a moderate increase in service, the 99B still operates every three minutes (20 trips per hour) during peak hours, limiting hourly capacity to about 2,200 pphpd.
In Vancouver, we are spending $3.5 billion for a subway that will only go half way to UBC, which realistically will carry under 30,000 pphpd, while in Toronto, on streetcar route is carrying 80,000 plus people a day.
Even if ridership doubles with the subway (which is doubtful when one considered that subways have a poor record in attracting ridership) in the first years of operation, there will still be less people carried that what Toronto's 504 streetcar route does today, in revenue service.
TORONTO Transportation Commission [TTC] has dropped the route 514 streetcar route on King Street as part of a plan to speed travel and reduce confusion by riders, CTV News reports:

<https://tinyurl.com/y7raxg6p>

TTC makes changes to King streetcar, discontinues service on 514 Cherry routeChris Fox, CTV News Toronto

Published Sunday, October 7, 2018 10:12AM EDT 
Last Updated Sunday, October 7, 2018 11:24AM EDT

The TTC is discontinuing service along one streetcar route and splitting another into two new routes.

The 514 Cherry streetcar, which travelled along King Street from Dufferin Gate loop to Distillery District loop, has been taken out of service as of today.

In its place, the TTC is splitting the 504 King streetcar into new branches. The 504A King streetcar will travel from Dundas West Station to the Distillery District loop and the 504B King streetcar will travel from Broadview Station to the Dufferin Gate loop.

"We have gotten rid of the 514 in name only, the service to the Dufferin loop and the Distillery loop continues with the 504 A and B," TTC Spokesperson Stuart Green told CP24. "Over the summer we had to do some rerouting for construction and we found that changing the routing and doing these shorter routes actually improved the reliability. You will now have in the morning rush hour a streetcar every three minutes or while still servicing all the areas served by the old 504 and the old 514."

In a press release, the TTC said that the change will reduce the need to shorten streetcars as "a delay on one end of either branch is far less likely to affect service throughout the entire route."

The TTC also said that the move will provide more clarity to riders, as all streetcars travelling along King will have the same number associated with them.

About 80,000 riders use the 504 King streetcar every weekday. That's up from an estimated 72,000 daily riders when a pilot project prioritizing the movement of streetcars along the busy corridors began last November.

The TTC says that during the morning rush hour, there were will be 22 new streetcars assigned to the 504A route and 20 assigned to the 504B route.

The time to travel along the full route during the morning rush will be about 108 minutes on the 504A and 98 minutes on the 504B, the TTC says.
So, where are the important stories about SkyTrain and transit Ms. Bula?
Any mention that Transport Canada's Operating Certificate for the Innovia SkyTrain system (Expo and Millennium Lines), limits capacity to 15,000 pphpd?
No?
Have you ever penned a story about how the Expo line is worn out and much of it's existing infrastructure needs outright replacement. Have you ever explored the fact that the cost will be between $2.4-$3.1 billion to do what is required to rehab the line and increase capacity?
No?
Have you investigated that there is no money budgeted to do the vast majority of the work?
No again?
Have you inked a story about the ridership on a transit route needed to justify a subway?
No?
Have you interviewed the the Two senior planners at TransLink who were fired because they dared to say there was not enough ridership on Broadway to justify a subway?
No again?
have you written on the fact that the Innovia SkyTrain Lines capacity limit is 15,000 pphpd, which will include the proposed subway, until that extremely expensive and unfunded rehab takes place?
No?
In Surrey, have you bothered to write that mayoralty candidate, Bob McCallum's threats to stop LRT and build with SkyTrain instead is nothing but hot air, as all federal transit money is project specific, it's been that way since 2009 and the alternative finance model or 3P structure is the only way you can get their money for transit?
No?
Have you included in your stories that the era of just getting a certain dollar amount of federal money for transit is gone forever! If you take the federal money, the project is set in stone?  (With thanks to Mr. Cow!)
Non-news, puff stories is what coming from the Globe and Mail, with the real news, SkyTrain unfriendly news, ignored!
Vancouver

Special to The Globe and Mail
Metro Vancouver politicians have maintained a united front on regional transit plans for the past five years.

But the civic election campaign is cracking open differences in support for different future lines, which could result in significant changes when a new crop of politicians is installed in November.

In Vancouver, the main candidates are split on their enthusiasm for extending the Broadway subway line from the planned first phase that stops partway across the city's west side at Arbutus, before the University of British Columbia.

But Ken Sim, the Non-Partisan Association's mayoral candidate, and Green Party councillor candidate Pete Fry are far less gung-ho about extending the subway.

Although neither will say they oppose the subway flat out, both talk about the need for more study and more discussion with other partners to determine whether it is really needed.

"What we're waiting for is for TransLink and UBC to tell us what their plans are," Mr. Sim said. "It would be reckless to say let's build a line, if all the partners are not there."

He cited TransLink statistics that two-thirds of the riders on the existing B-line on Broadway get off by Arbutus. Mr. Sim's teammate, Colleen Hardwick, has also said at all-candidates' meetings that the subway is like an oil pipeline that the city doesn't need.

Mr. Fry sounds the same kind of cautionary note. "The idea of a subway sounds great but we need to balance the needs of the entire city," he said. "It is a lot of money."

Green Party councillor Adriane Carr has frequently expressed concerns about the cost of a subway line and the possibility that it will lead to massive increases in density along Broadway. The party has typically supported an expanded bus system or streetcar lines instead.

In between those views are candidates who support the extension in the next phase of the region's transit plan, without holding out hopes that it can happen quite as quickly as Ms. Sylvester says.

Independent Kennedy Stewart, Coalition Vancouver's Wai Young, Yes Vancouver's Hector Bremner and Vision Vancouver's Tanya Paz all say a subway extension is needed for the future city.

And that will mean change.

"You can't really preserve your neighbourhood and live in $10-million homes and expect workers to come in from Mission," Mr. Stewart said.

The important thing, he said, is to leverage the increases in property values that will happen along the line and use that to provide affordable housing on the west side near transit.

Mr. Bremner said he would push to get a commitment from other levels of government for money as soon as possible, so that construction on the extension could happen fairly quickly after the line to Arbutus was finished.

And Ms. Young said the line is needed because the university is going to keep growing. "We need to build for the future."

In the meantime, it's now unclear what will happen with the streetcar-type lines planned in Surrey, which have already received funding.

Integrity Now candidate Bruce Hayne said the public hasn't been consulted enough about whether they support the LRT technology.

Surrey First mayoral candidate Tom Gill said it's too late to change now and delaying will only result in Surrey losing hundreds of millions in federal money.

In Surrey, the party that broke away from the ruling Surrey First is now saying the $1.65-billion light-rapid-transit line, whose construction is about to start after five years of studies, should be paused until more study is done.

And, in North Vancouver, some politicians are saying they will fight to have SkyTrain extended across Burrard Inlet, while others say improved bus service is the more immediate solution.

All of that could come into play as city councils decide on the region's next 10-year transit plan during their terms.

Vancouver independent candidate Shauna Sylvester insisted there's money and support to extend the Broadway subway line, now scheduled to end at Arbutus, to UBC right away.

"I know the Musqueam and UBC are willing to contribute resources," Ms. Sylvester said. The original regional transit plan envisioned running the line all the way to the university, she said, but that got curtailed because Vancouver politicians didn't push hard enough for it.

"What happened? Vancouver dropped the ball on leadership."

She claimed the federal government is waiting to spend more infrastructure money in advance of the next national election and Vancouver will be in a prime position to get that, if it pushes aggressively for the extension.
The new Mk.3 car is really a tarted up Mk.2 car, with one noticeable difference, the MK.3 sets now include a powered "saloon" vehicle, gangwayed at both ends.
This will enable TransLink operate 3-car trains.
The problem with the proprietary SkyTrain is that they cannot operate larger cars than the present MK.2′s do to the constraints of the Expo Line. The MK.3 cars have about as much in common with the Canada Line's Hyundai's metro cars as a Ford Edsel compared to Hyundai built SUV.
This news item is a good example of the media "puff" piece, reporting non news as real news, because the MK.3 trains have been in operation since 2016!
So now here is the real story: When production of the MK.3 cars are completed, sometime in 2019, there is a very good chance that Bombardier Inc. will mothball or even dismantle the SkyTrain production Line due to lack of sales, as not one new SkyTrain system has been built in the past decade and of the remaining  six SkyTrains in operation, not one is asking for new orders.
TransLink takes possession of 'Marky' – the new SkyTrain cars
'Marky' waiting to be unloaded.

Photograph By TRANSLINK

One of the most common complaints I hear about train on social media are the conditions of the older SkyTrain cars.

Usually it involves the lack of air flow, the smell, the crowded feel and the noise.

Ugh, the noise of the older cars – it's like fingernails on a chalk board, only if you were crammed into a tiny space with 100 strangers all staring at their phones while somebody scraped their fingernails down the chalkboard.But help is on its way.TransLink recently took delivery of "Marky" – the newest Mark III SkyTrain — which, according to the transit authority's Buzzer Blog, arrived in Metro Vancouver on Sept. 12 after a week-long trek across Canada.
"Marky's the first four of 56 cars (no. 429, 430, 431 and 432) for the Expo and Millennium Lines, built by Bombardier Transportation, to arrive," said the blog. "Twenty-four additional cars will arrive early next year and another 28 by the end of the same year, for a total of 56 cars for the Expo and Millennium Lines."The cars will be more like the ones on the train to Richmond – which after leaving some of the old Expo line cars feels like the flight attendant pulled back the drapes and let you sit in first class.What happens next is "Marky" will be put through a battery of tests to make sure it can withstand the rigours of life on the SkyTrain.
It is interesting indeed that Vancouver Sun columnist, Vaughn Palmer is writing about transit and the two massively expensive rapid transit projects, the Surrey LRT and the Broadway subway.
With both federal and provincial backing, these two ill conceived projects will cripple transit planning for the next quarter century. In the long term at least, Surrey's LRT id flexible enough to have much cheaper extensions added, unlike the propitiatory SkyTrain light-metro.
Vancouver, wants a subway as a driver for major property development along Broadway, as in the city of the rich and famous, transit is strictly for the lower classes, students and the elderly.
But back to the Vancouver Sun, the great champion of SkyTrain and the Canada Line; why allow negative stories?
The answer I think, the media barons back east smell another FastFerry type fiasco that they can hang on the NDP.
The question I ask is; "Where was Palmer and the Sun , two, three, four years ago when the travesty of public consultations was taking place, complete with the Vision Vancouver goon squad threatening or shouting down all those questioning both transit projects?"
Yes, where were you then?
Oh yes, the Liberals were in power and reporters treating Liberal news releases as news!
Vaughn Palmer: SFU research flags costs, scrutiny, merits for B.C. transit projects

The overall impression from the SFU research is the two B.C. projects, Surrey light rail and the SkyTrain extension in Vancouver, are the most expensive in the country.

VICTORIA — As Gregor Robertson prepares to leave office after a decade as mayor of Vancouver, the timing underscores the soaring cost of his enthusiasm for extending transit across the west side of the city to the University of B.C.

Back on the eve of the 2013 provincial election, Robertson, then in his second term, released a study — jointly funded with UBC — that made a jobs and economic development case for extending SkyTrain by subway along the Broadway corridor and out to the Point Grey campus.

"What is currently a powerhouse for jobs will suffer and be choked off" by "gridlock and over-stretched transit," Robertson told reporters as city officials distributed a report showing employment and population along the corridor would grow by 150,000 over 30 years.

Cost estimate for the entire project was $2.8 billion, which at the time seemed like a sobering amount.

Today, as Robertson comes to the end of his third term, three levels of government are preparing to spend roughly that amount — $2.83 billion — just to construct the first phase of the extension, from  Clark Drive to Arbutus, a distance of 5.7 kilometres.

To get SkyTrain all the way out to UBC would mean constructing another seven to eight kilometres of line, depending on the chosen route and number of stations on campus.

Published estimates for covering the remaining distance are on the order of $2.6 billion. But I would treat that number as wishful thinking, given the cost of inflation over the last five years and the likelihood that construction won't start until after Phase 1 is completed in 2025.

So in the space of five years, the estimated cost of getting SkyTrain to UBC has at least doubled and maybe tripled. 

Yet the provincial government has provided no specific justification for the escalation, other than vague generalities about inflation and the cost of materials, labour and land, none of it backed up with detailed breakdowns.

Raising additional doubts is an email I received this week from Stephan Nieweler, a transportation instructor and doctoral researcher in the geography department at Simon Fraser University.

He and his students have produced some telling cost comparisons between transit projects elsewhere in Canada versus the Broadway SkyTrain extension and the recently approved Surrey-Newton-Guildford light rail project.

"The numbers for the Metro Vancouver projects are shocking compared to those in other cities," wrote Nieweler.

By way of example, he sent along several pages from a power point presentation showing how transit was being built for less money and/or over greater distances in Ontario (Waterloo, Ottawa, Toronto), Alberta (Calgary, Edmonton), Manitoba and Quebec.

There were differences between the types of systems and schedules for completion, making precise comparisons difficult.

Still, the overall impression from the SFU research is the two B.C. projects, Surrey light rail and the SkyTrain extension in Vancouver, are the most expensive in the country.

He also sent along details from a second research project that weighed the merits of an 11-kilometre light rail line along the North Vancouver waterfront, stretching from Capilano University in the east past Park Royal and into West Vancouver.

In terms of population and employment density along the route, Nieweler concluded there's a better case for the North Shore light rail project than either Surrey light rail or extending SkyTrain to UBC.

He presented those findings to the integrated North Shore planning project, chaired by North Vancouver NDP MLA Bowinn Ma. In light of that, he lamented the diluted enthusiasm for North Shore light rail in the panel report released last week.

He went on to speculate that senior government officials and TransLink planners had discouraged the panel from making any recommendations on light rail that would compete with the just-approved projects in Vancouver and Surrey.

"The point being, that our governments are not engaging in performance-based investment," wrote Nieweler, citing the "mantra" that was prevalent at TransLink when he worked for the regional transportation authority several years back.

"I think the public needs to know how these decisions are made, and why our leaders have chosen to proceed with the costliest surface light rail and Metro projects in Canadian history without the scrutiny that they deserve."

He makes a good case for proper scrutiny. But who would undertake it at this late date, other than perhaps the independent auditor-general, is not at all apparent.

As noted here earlier this week, neither TransLink nor the provincial government is inclined to share any detailed rationalization for why it is costing half a billion dollars a kilometre to tunnel under Broadway and $160 million a kilometre to build on the surface in Surrey.

When Prime Minister Justin Trudeau and Premier John Horgan made a joint announcement on the Vancouver and Surrey transit projects earlier this month, more than a few observers noted it was not, in fact, news because both governments had endorsed those projects before.

Rather their purpose seemed to be to declare the projects a fait accompli in advance of the Oct. 20 civic elections.

"We've locked in this funding for the next 10 years," declared Trudeau.

"This is about locking this down," echoed Horgan. "This is happening. This is not being revisited. The cheque is in the mail. We are going to be building."

The debate is over, so far as the politicians are concerned. But for taxpayers, the ordeal is just beginning.
A fiasco is brewing  in Surrey, as the cost for LRT construction is now exceeding $165 million/km!
Is it by design, by TransLink, who wish to continue building with SkyTrain?
Is it by devious planning by other City of Surrey, piling on massive infrastructure costs on the light rail project?
Is it nothing more than a provincial make work project?
Is it a "St. Clair" type of transit project where the LRT is a sideshow to a massive road rebuilding scheme, paid for by funding new light rail?
*
Or, is it just plain incompetence of TransLink?
*
Take you pick because the Surrey LRT is fast becoming a poster boy for more SkyTrain!
*
It seems the City of Surrey is loading road projects (Hawthorn Park) and renewing underground utilities on the back of the LRT project.
*
The following shows the construction costs of various transit systems up to 1987.
*
I believe that these costs do not include vehicles, but rather are the raw construction costs for track and OHE.
*
It is not the cost I am looking at rather the ratio of construction costs.
SkyTrain cost 6.5 times more to build than San Diego; 3.2 times more than Portland; 2.65 times more than Nanetes (France); and 2.2 times more to build than Calgary, yet today, in Surrey, SkyTrain is mere 20% more expensive than Surrey's new LRT, what gives?
Accounting for inflation, the construction cost in 2018 dollars:
San Diego – $8.58
Portland – $26.96 mil/km
Nantes – $21.05 mil.km
Calgary – $25.34 mil/km
VAL – $47.37 mil/km
SkyTrain – 55.94 mil/km
The scope of the Surrey LRT should be comparable to Nantes at about $21.05 mil./km, plus cars and maintenance facility. The total cost should be around $35 million/km to $45 million/km.
*
As Light metro uses much more cement and rebar than LRT and it also has a very expensive reaction rail, needed for the LIM's, for TransLink to say that LRT is about 20% less than Light metro is nothing but pure invention.
*
I would love to see what Alstom or Siemens would say!
*
Also please note, LRV's are cheaper than SkyTrain becuase one needs three SkyTrain cars to match the capacity of a modern tram!
*
I am also puzzled why only 30 metre long trams are being used as today, trams can be bought a various lengths and capacity can be increased incrementally, as demand grows, by adding more modules in a modular car.
*
The following gives a primer on modular trams and how a small tram can have extra modules added, thus increasing capacity affordably without buying new cars.
30 metre long trams seem a tad small.
The following gives a good visual of Ottawa's trams and SkyTrain. You need three Mk.2 SkyTrain cars to match the capacity of one modern tram that will be used in Ottawa.
*
What is happening in Surrey,  is anybody's guess, but at $165 mil/km, for a basic tramway is worthy of an investigation.
*
Vaughn Palmer: Rapid escalation of light rail costs in Surrey are literally taxing
The rapid escalation means surface light rail in Surrey is now costing more to build than the Evergreen SkyTrain extension to the Tri-Cities, completed two years ago for $130 million per kilometre
Vaughn Palmer

September 19, 2018
VICTORIA — The transportation ministry has provided an explanation of sorts for the soaring price tag for light rail in Surrey, now budgeted at more than double the estimated cost per kilometre from just five years ago.

The recent request for qualified bidders on the project includes an estimate of $1.65 billion to construct the 10.5 kilometre-long first phase of an L-shaped line linking the Newton and Guildford town centres to Surrey Central.

As recently as 2013, Surrey sought funding of $1.8 billion to construct the first phase as well as a second 16.5 kilometre-long link to Langley. The then-to-now difference in cost per kilometre: about $65 million versus the current $157 million.

The rapid escalation means surface light rail in Surrey is now costing more to build than the Evergreen SkyTrain extension to the Tri-Cities, completed two years ago for $130 million per kilometre.
Seeking an explanation, I put the question to the provincial transportation ministry and got back a few points via email.

"In order to compare the cost of the Evergreen Line with Surrey-Newton-Guildford light rail, both projects should be considered on the same time basis," it began. "Given current market conditions and cost pressures for commodities and labour, if Evergreen were built today, it would have faced these same considerations."

Though the exploratory call for bids was issued earlier this month, the actual contract won't be finalized until the winter of 2019 with the start of construction targeted for 2020.

"If Evergreen construction were to start in 2020, the costs would need to be inflated by seven years. On that basis the SNG LRT project is about 20 per cent less expensive than Evergreen."

Almost one-quarter of the 11-kilometre Evergreen line was tunnelled. Construction entailed installation of the SkyTrain guideway and more elaborate stations. Shouldn't street-level light rail be a lot less expensive?

"Surrey light rail has a number of other costs because it is a new, stand-alone at-grade system," the ministry went on to explain. Those extras include a "full operations, maintenance and storage facility, which can service future extensions to the LRT system."

The latter includes the still-on-the-drawing board extension to Langley, portrayed on the map that accompanied the request for qualifications. Though the extension is not part of the current procurement, would-be bidders are cautioned that "the project shall not preclude the ability to efficiently and cost effectively integrate operations of the two phases."

At the current estimated cost per kilometre, with no allowance for inflation, the Langley extension would run to another $2.6 billion.

Other factors cited by the ministry to account for the price differential on Surrey include the acquisition of a fleet of 16 light rail vehicles, each 30 metres long.

Granted the switch to a completely different transit system entails additional costs in terms of purchasing rolling stock and establishing separate operations and maintenance facilities. But that's one reason why critics argued for sticking with SkyTrain.

Other unique-to-light-rail factors cited by the ministry include:

"Various costs related to the at-grade nature of the system, including significant utility relocation costs (estimated to be in the order of 10 times the utility relocation costs on Evergreen) and significant requirements for traffic management during construction."

Plus "extensive urban integration elements, including multi-use paths, bike paths, road relocations and landscaping, and related property costs, to support the urban redevelopment and livability objectives of the project."

I was also advised to take note of the rising cost of acquiring land in Metro Vancouver. But doesn't one of the supposed savings with light rail arise from the lines and boarding platforms being constructed on existing streets?

In any event, the ministry did not provide cost breakdowns for any of these factors, so it is not possible to gauge to what degree any of them contributed to the overall budget.

Nor does the ministry intend to provide any more detail until the contract award, with final breakdowns to be released only after construction is complete in 2024.

Perhaps a better explanation might be forthcoming during the current civic campaign in Surrey. Back in the summer of 2013, then-city councillor and chair of the transportation committee Tom Gill told the Surrey Now newspaper that light rail could be built at a cost of between $65 million and $85 million. Today, he is running for mayor on a platform touting light rail at twice the price.

Another thing that jumped out from a review of The Vancouver Sun files was a 2011 story where TransLink was claiming it could build light rail through Surrey at a cost of $27 million per kilometre.  Someone, somewhere has some explaining to do on this project.

Meanwhile I would note a telling tweak in the request for qualified bidders on Surrey light rail.

The initial posting on Sept. 5 stated the project would have to be "delivered in a matter consistent with the province's objectives in the community benefits framework," the NDP-authored scheme that mandates preferential hiring via selected unions.

A revised posting last week stood down that specific requirement in favour of a more general commitment to apprenticeships, training, local hires and opportunities for Indigenous people and other underrepresented groups.

No explanation for the switch. But perhaps the other partners on the project — the federal government, TransLink and Surrey itself — balked at being coopted into supporting the NDP hiring hall, with its preferential treatment for selected unions.
It seems Surrey's LRT project is in reality a road and underground utility renewal project with rails, hence the massive construction costs.
Are these road and renew weal projects needed?
Was the Hawthorne Park Road needed?
No.
Do the underground utilities need replacing?
Probably not.
It is the cancer of light rail projects in North America, where costs soar to to the political charade of masquerading road building and underground utility renewals and construction, onto the new LRT's construction tab.
More and more, the $165 million/km Surrey LRT project looks like it is nothing more than a road building and utility upgrading project with rails.
Early work on Surrey LRT hits a snag as sewage backup shutters police station
By

Janet Brown

Senior Reporter  CKNW

Cleanup is underway at a Surrey RCMP building after early work on the city's Light Rail Transit (LRT) system caused a backup of sewage.

A sanitary sewer line was being moved by construction crews near 104 Avenue and 148 Street on Tuesday when a temporary bypass pump failed, causing sewage to backup into the police station.

A claim has been submitted to the contractor and the RCMP building is closed indefinitely.

"We're still evaluating and assessing the impacts and determining the next steps," said LRT project director Scott Neuman.

He also said there are three projects underway right now before the 'real' LRT work gets going.

"TransLink and the city are working together on identifying the next round of advanced works."

Neuman said this kind of incident is not unusual during utility construction.
Not really news if one knows light rail.
Like it or not, modern public transit is coming to Surrey and the SkyTrain Lobby are kicking and screaming all the way, why?
The fear, I believe, is that there is great fear that when modern LRT operates in Metro Vancouver, "apples to apples" comparisons will be made between SkyTrain light-metro and light rail. and LRT will signal the demise of the aging proprietary light metro.
It has also been mentioned to me, that LRT will prove embarrassing for many academics, who have spent careers promoting light-metro as a tool to create high density for a more livable city.
LRT operation will also prove problematic for many city engineers, who want all transit in the air on a viaduct, or hidden away in a tunnel, to keep roads clear for cars.
Modern LRT, with over 135 years of development behind and with its inherent flexibility, it can and will adapt to future needs.
Light rail is coming to Vancouver, some forty years since it was first planned for!
Stephan Mehr: Light rail will bring huge transit improvements to Surrey, TransLink manager says
LRT is on the way, says Stephan Mehr, director of TransLink's Surrey-Newton-Guildford LRT Project.
Stephan Mehr

September 12, 2018



Rendering of Light Rail Transit on King George Blvd. at 76 Ave. in Surrey. See Notes / Direction / PNG

 Better transportation for everyone in Surrey is one step closer to reality.

Last week, the Surrey-Newton-Guildford Light Rail Transit Project reached a critical milestone with the formal approval of the business case by the governments of Canada and B.C. The project is now fully approved and fully funded with backing by all three levels of government. The procurement process officially began last week and my team is working to have B.C.'s first light-rail project carrying passengers across Surrey by 2024.

We all know that Surrey is growing. We see it every day. More people, more jobs and yes, more traffic. There's another 400,000 people expected to live in Surrey by 2040. That makes it B.C.'s fastest-growing city.

With this in mind, we worked with the City of Surrey to carefully study population and employment growth, detail Surrey's transportation needs and establish its livability goals. Years of work and discussion have gone into the decision that a light-rail system would be the best solution for Surrey to reduce congestion, meet growing transit demand and support the development we all want — complete, connected and livable neighbourhoods.

People look for convenient public-transit options when deciding where to live, work and spend time. Light-rail transit in Surrey will stimulate economic development, job growth and density. This boosts transit demand but also increases employment and housing options. There will be more than 28,000 jobs within 400 metres of an LRT stop in 2024, and more than 34,000 jobs by 2033.

Surrey LRT will serve 104th Ave. and King George Blvd., connecting three of Surrey's largest town centres. Three-quarters of all transit trips that start in Surrey end in Surrey. That confirms the need for better, more-frequent local transit services and connections.

The LRT will replace the 96 B-Line once it's open. This B-Line is the fastest-growing B-Line in TransLink's network. It saw about five million passenger boardings in 2017 — a 50-per-cent increase from 2014. At that rate, ridership demand will outstrip the B-Line's capacity within a decade. LRT, which can move more than four times the number of passengers than the B-Line, will meet forecast demand well into the future while providing accessible and comfortable service along two important corridors.

Customers don't want to have to wait long for a ride. LRT will be more frequent, with five-minute waits during peak period, and a travel time of 27 minutes or less. Travel times for the 96 B-Line during peak congestion range between 29 minutes and 50 minutes.

B.C. is joining cities and regions around the world that are choosing light-rail transit to create more vibrant, connected communities. We will learn from the experiences of the more than 400 light-rail projects around the world to make sure we can build this project in the least disruptive way.

This is a historic opportunity. The SNG LRT project is the greatest infusion of transit funding for the area south of the Fraser and the largest capital investment in Surrey. There is much work to do over the next few years before we can ride LRT in B.C., but we are closer today than ever before and are thrilled to say: LRT is on the way!

Stephan Mehr is director of TransLink's Surrey-Newton-Guildford LRT Project.