The Compass Card fiasco is not really a TransLink problem, rather it is the epitome of why TransLink has problems; TransLink is a tool of the Premier's Office and it must do the Premier's bidding or face serious repercussions.
Premier Gordon Campbell's best friend, Ken Dobell, was the lobbyist for Cubit Industries makers of fare card systems and fare-gates and what Ken Dobell wants, Ken Dobell gets! TransLink was compelled to purchase the compass fare-card and fare gate system, even though TransLink did not want it.
With help from the mainstream media, in particular the Vancouver Sun and CKNW radio, the propaganda campaign, using perceived rampant fare evasion as the 'raison d'être ' for fare-gates succeeded wonderfully. The Compass Card and fare gates were soon forced upon TransLink by popular public demand, even though fare evasion was well within industry norms!
The problems now associated with the Compass Card resides with concession fares, the U-Pass and the antiquated tap in – tap out method of using the fare card. In fact Zwei has been told by a whistle blower working at TransLink that the Compass Card and fare gates may be never put into revenue service!
The Compass Card debacle is just another, in a long list of  of Gordon Campbell's ill conceived meddling forcing a rather complicated fare card/fare gate system on a very uncomplicated paid fare zone method with open access stations, which has cost the tax payer dearly, much more than was lost due to fare evasion.
TransLink stays mum as Compass Card problems point to further delay
By Dan Fumano, The Province March 26, 2015

Back in November 2007, B.C.'s then-transportation minister returned from a trip to Europe, and announced sweeping changes to Lower Mainland transit.

Minister Kevin Falcon was impressed by transit systems in London and Rotterdam, and he envisioned electronic fare gates and smart cards for Metro Vancouver.

The smart card, Falcon said, was "very easy to use," and a key part of the plan.

He said at the time: "It actually grows your ridership dramatically. It's really convenient."

A few months later, Falcon was asked about fare gates, or turnstiles, at SkyTrain stations, and he told The Province: "It's going to happen."

That was seven years ago this month, and passengers are still waiting for those fare gates and smart card system, now known as the Compass Card, to happen.

Many have wondered: Did the Compass lose its way?

With Metro Vancouver currently in the midst of a plebiscite about a 10-year transportation plan, TransLink's reputation and efficiency has become a major issue in the campaign, and the delayed Compass rollout has been one of the most frequently cited examples of the regional transport authority's supposed challenges.

Target dates have come and gone, budgets have ballooned.

Only a handful of transit passengers are using the cards now — about 10 per cent of TransLink's goal — and it's unclear when the system will be fully operational.

The first fare gate was installed in August 2012. Now, gates are installed at most stations, but they remain unused.

TransLink's media office was unable to make someone available for an interview for this story between Monday and Thursday this week.

In an emailed statement, a spokeswoman said that by the end of summer 2015, TransLink expects to have about 215,000 Compass Cards on the system — about one quarter of their end goal of 800,000.

Questions about the expected timeline for the Compass' full implementation were referred to TransLink's website.

On the Frequently Asked Questions section of TransLink's website, the first entry asks: "When can I start using the Compass and fare gate system?"

The response does not answer that question, but begins with "Excitement is building for the launch of Compass!"

In December 2010, an American company called Cubic Transportation Systems was awarded the contract to design, build, and operate the Compass system. However, calls to Cubic's San Diego headquarters this week were not returned.

As debate over the transit plebiscite continues, a lack of trust in TransLink has become a huge issue for the Yes campaign, according to a poll carried out earlier this month by the Angus Reid Institute for The Province.

Even high-profile campaigners for the Yes campaign, such as Vancouver Mayor Gregor Robertson, have said they have "concerns about TransLink."

Still, they have tried to remind voters, the vote is supposed to be about transportation, not about TransLink.

Jordan Bateman, the B.C. director of the Canadian Taxpayers Foundation and the de facto head of the No campaign, said he hears from "TransLink apologists" who say the Compass problems are "not TransLink's fault," because the program was thrust upon them by the provincial government.

Bateman's response to that is: "Look, anyone who has a boss has been forced at times to do something in their job that they didn't want to do … That doesn't excuse gross mismanagement. TransLink is over-budget, years late, they're nowhere near getting these things up and running."

HOW IT WORKS

TransLink's website says: "the Compass system uses a simple tap-in/tap out process."

But in reality, it's so far been less "simple" than envisioned.

The system is supposed to work like this: Transit customers "load" up a Compass Card with funds to pay for trips.

As passengers enter a bus, SkyTrain station, SeaBus terminal or West Coast Express platform, they swipe the Compass Card against a reader, "tapping in." They will then swipe the card again at the end of each trip, "tapping out."

But, as the TransLink website notes: "Failure to tap out means the system will charge you for a three-zone fare, so it's crucial that you tap out!"

Indeed, the "tapping out" process has reportedly been one of the sticking points with the Compass technology.

Compass testers reported trouble getting the reader to recognize their card after repeated attempts to "tap out."

This can result, testers say, in log jams at SkyTrain fare gates, agitated passengers on busy buses, and customers getting over-charged.

One tester said: "If they ever they get this thing up and running, I think it's going to be a bit of a gong show."
Interesting item from the Netherlands.
Dutch Engineers have been at the forefront at lift bridge technology for over a century, due to the many canals that traverse the country.
The "tilting lock" would be especially beneficial to railways as there would no need for a lift span at all and trains could cross the bridge at faster speeds in complete safety.
The two bridges that are in dire need of replacing is the crumbling Patullo Bridge and its neighbour, the downright decrepit Fraser River Rail Bridge.
Instead of a complicated and expensive lift span for trains, boats and barges could pass using the "tilting lock" technology, which would both reduce the cost of a lift span, yet at the same time increase railway efficiency.
The only downside I can see is that there would be a size limit for water craft traveling Eat past the bridge.
Innovative Tilting Lock Concept – Bridge Doesn't Open But Ships Submerge To Pass Under

A major road bridge with no need to open because ships 'submerge' under it – this is the new Tilting Lock invented by Dutch engineers at Royal HaskoningDHV.

Major bridges that move to allow sailing yachts to pass beneath them, like the Zeeland Bridge in the Netherlands, are causing daily traffic congestion when they open for the boats, peaking during the summer season. To resolve this problem, Royal HaskoningDHV has invented the Tilting Lock – designed to allow boats to 'submerge' under the bridge instead of it opening for them to pass under.

The Tilting Lock (Kantelsluis) is a floating structure which has two separate water filled channels with space for five yachts at a time. When the lock is level, the water surface in both channels is 4 metre lower than the water in the river. To start service the lock will tilt in order to raise the level of one of the channels to meet the water level outside the Tilting Lock

Sailing boats enter the Titling Lock. © Royal HaskoningDHV

Adding 8 metre vertical clearance

Mr Carolus Poldervaart, a Royal HaskoningDHV designer: "Once the yacht is in the channel, the lock will tilt and 'submerge' the boat by 8 metre. After the boat has passed under the bridge the lock reverts to its original position to level the water inside and outside the channel again. This way almost all yachts will be able to pass under busy movable bridges without the bridge having to open. No more waiting traffic, no more waiting boats."

The Tilting Lock does not pump water and no weight is being displaced. It remains in position, with tilting being the only movement. Mr Poldervaart explains: "The tilting motion is restricted, mainly to guarantee that the sides of the lock do not touch the mast of the boat."

© Royal HaskoningDHV

Energy use: equivalent to four hours light from an ecolamp

The energy used by the Tilting Lock is extremely low. Mr Poldervaart continues: "The lock tilts 32 degrees in three minutes and it takes 30 seconds to set the tilting 'in motion'. In normal weather conditions this uses 0.04 kWh – as little as an ecolamp needs to burn for four hours." Stopping the tilting produces energy, as do the solar panels on the lock. This energy will be used to tilt the lock and for lighting, as well as opening and closing the lock doors.

The lock will be made of steel and will be built at a wharf and then transported to its final location, enabling 15 to 30 'oversized' yachts per hour to pass the bridge without it opening. Capacity may vary depending on width and length of the lock. Smaller sailing and motor yachts will still be able to pass the bridge as normal.

© Royal HaskoningDHV

Benefits higher than the costs

The investment for building such a lock is €60 million (CAD $81.60 million), depending on size, but the benefits will be enormous. A cost/benefit analysis predicts that the Titling Lock at another busy Dutch opening bridge, the Haringvlietbrug, will yield €100 million (CAD $136.44 million) over a period of 25 years, with a pay-back time of 12 years.

Applicable as ordinary lock

The Tilting Lock can also be used as an energy efficient ordinary lock with no water being lost when moving ships from higher to lower water levels – a persistent problem in canal systems that are dependent on rainwater to maintain sufficient water depth.

https://www.youtube.com/watch?feature=player_embedded&v=S3R4Yd0-kdo
How soon we forget, the BC Liberals had a $14 billion transit plan for Metro Vancouver and what ever happened to that?
The following from Vancouver Buzz explains events from seven years go.
A new transit blog is in town and I think it is well worth a read.
Called Inside TransLink, it gives an insider's view of the organization and the many problems the exist, culminating with this rather destructive transit plebiscite.
http://www.insidetranslink.ca/
The ways to improve TransLink, from a voice that saw the inside.  There are a lot of critics of TransLink, and they are commenting on the obvious and visible symptoms of the issues Inside TransLink.   It takes an outsiders, inside view to know exactly what is happening at TransLink and where the root causes of the problems are!
Though I am trying to avoid unhappiness with the upcoming transit plebiscite, this item from the Financial Post is well worth a read.
What I find interesting, is the following comment; "Even London, a world leader in public transit and congestion charges, is still bogged down in traffic. "Traffic jams in London getting worse, " said a BBC headline last year."
So those who think a few km of LRT in Surrey and a paltry 5 km SkyTrain subway under Broadway or a few BRT lines, will alleviate congestion, think again.
Terence Corcoran: Hey, Vancouver: Just say 'No' to transit tax

Terence Corcoran | March 16, 2015

"The city's proposed sales tax plan is just a trigger for billions in new spending and higher taxes in future.  And for what?"

Ah, congestion! What a windfall for policy wonks, sustainability dictators and others with a penchant for standing at the intersection of economic life and directing ideological traffic. It's a global trend that this week officially sweeps into Vancouver with the distribution—by mail!–of ballots for a city plebiscite on a proposed "transit tax."

Or, as Happy City guy Charles Montgomery wrote in the National Post over the weekend, Metro Vancouver voters are being asked to participate "en masse in a fascinating behavioral experiment." That's not entirely inaccurate, since the plebiscite is indeed an experiment—to determine whether the majority of voters in a big city can be bamboozled into voting for new taxes and big spending to support their local transit industrial complex.

The campaign for the transit tax—a Vancouver-region increase of 0.5% in the provincial sales tax to raise $250-million a year—has the backing of a council of local mayors, a multi-million dollar marketing budget, plus the usual round-up of local business leaders, green activists and assorted economic theorists flaunting big dollar stats and grand claims that the tax will trigger major long-term economic and congestion benefits for all Vancouver. Be happy, vote for higher taxes.

The ballots have just been mailed out and it will apparently take Vancouver voters another 11 weeks to figure out whether they can believe claims that the new sales tax – about $125 a year per household–will magically relieve congestion and generate $1.2-billion in long-term benefits.

Recent polls suggest that Vancouverites aren't enjoying the behavioral experiment, with the "No" side holding the upper hand heading into this week.   Between now and May 29, the last voting day, FP Comment will present occasional commentaries on the transit tax battle. As of this week, however, the best advice to Vancouverites would be: Just say "No."

A vote for the transit tax is a vote for massive expansion of public transit spending over the next 10 years. The official figure bandied about by the major pro-transit tax operative, the Mayors' Council on Regional Transportation, is $7.5-billion in new capital spending over the next 10 years. More spending is needed for operating costs.

Only 6% of the $7.5-billion will go for road/bike lane improvements, with another 13% to replace the Patullo Bridge. The bulk of the money, more than 80%, will be sunk into assorted public transit schemes, the biggest item being $4-billion in new rapid  rail transit investment, including a new line to the Vancouver suburb of Langley to give a fresh boost to urban sprawl.

The transit tax, if approved, would obviously only cover part of the $7.5-billion cost. As with all urban congestion relief policy expansions, the bulk of the costs will have to be borne by other levels of government and tricky manipulations of other taxes. The proposals suggest assorted additional tax grabs, including vehicle registration fees ($100-million a year) and taking back all or part of the revenue from British Columbia's famous carbon tax (up to $380-million a year). There's talk of a land-value capture tax ($10-million) and a new "mobility" tax that would tax drivers on the distance they travel rather than the fuel they use. Or maybe both. It's not clear in the documents.

Then there's a possible road tax, but that's not on the ballot and in any case is shoved off into the far future by the Mayors' Council, maybe eight years into the future. Even if one favoured road tolls as good economic policy, it's not really on the transit ballot agenda and, if implemented, would generate only $250-million a year to funding big transit capital projects. As with all urban transit tax plans, all these are seen as just starting point for bigger increases in the future.

The transit-tax ballot is in effect a marketing scam. Vote for this teeny little 0.5% increase in the sales tax—only 35 cents a day per household—and collect an economic bonanza worth $950, according the Tides Foundation-funded Clean Energy Canada group and the C.D. Howe Institute.

In addition, any new regional Vancouver sales tax and the other local taxes on carbon etc. will still have to be supplemented by much larger contributions from Ottawa and the province. The ballot, in other words, is a little trigger for a big increase in tax-based spending over  decades.

Nothing in any of the material on the Mayors' Council's glitzy get-out-and-vote Web site explains how any of this onslaught of taxes and spending will reduce actual congestion and/or improve the lives of Vancouverites. It's a dream that has never really materialized anywhere, even in cities that have tried all the options: Spend billions on public transit, raise taxes on carbon and cars, and everybody will be happier, riding their bikes, hopping on trains and cruising over traffic-free roads.

Even London, a world leader in public transit and congestion charges, is still bogged down in traffic. "Traffic jams in London getting worse, " said a BBC headline last year. A study showed that London was "second only to Brussels in terms of Europe's most congested cities, despite the congestion charge." Why? A growing economy is the main reason.

There may be good policies around to tackle congestion, including deregulation and allowing commuters to devise their own congestion-fighting behaviors. How about privatizing transit? But the idea that traffic can be controlled and reduced with massive new taxation schemes to fund zillion-dollar sprawl-inducing public transit created by central planning bureaucracies and politicians has become part of our modern urban mythology. Vote "No."
Toronto's lonely ICTS (SkyTrain) Line is due to be dismantled within ten years because it is life expired, but with the ongoing seesaw debate to replace the ICTS Line with LRT or a subway rages on. To keep the line operable the existing cars need to be refurbished to keep the line operating for the next few years.
This is what the TTC's revamped SRT cars look like

Posted by Derek Flack / March 6, 2015

The TTC recently announced that a makeover was in store for its Scarborough RT trains. With the aging transit line forced to operate until the completion of a new subway line in Scarborough (at least a decade away), it wasn't possible to put off upgrades any longer. Despite the notorious unreliability of the cars, the city is stuck with them for now, so the the TTC will invest $132 million to overhaul the fleet.

The first car has been re-wrapped as part of the makeover. It will travel the SRT to draw attention to the project and allow for the TTC to solicit feedback on the new design. At first glance, it's a major improvement over the dated 1980s aesthetic of the original trains, though it does bear an odd resemblance to the Montreal Metro.

It's also clear that the TTC is invested in rebranding the SRT to "Line 3," with each car prominently marked with this still MTA-looking label (though, in fairness, New York isn't the only city to number its subway lines). That's not a bad idea given the bad reputation that line has accrued over the years, with loads of service delays each winter.

Almost five million rides are taken on the SRT each year, so if this renovation project helps to make the experience better for the next decade, it will likely have been worth it, even if the construction of an LRT instead of a subway would have made this upgrade unnecessary.

In addition to the new-look exterior, the TTC will replace the motors of these vehicles as well as other aging parts and upgrade the interior space in an effort to make the trains more accessible and bright.

What do you think of the new design?
Battery powered trains are evolving at a fast pace.
For the Chilliwack interurban  purposes, this sort of train could operate quite well on sections of non electrified track, including the 12.5 section of shared track with the Roberts Bank Railway and the 22 km section from the Fraser river Bridge to the downtown Vancouver Central Station.
As battery powered trains and trams improve, by the time the government comes out of its transit mega project stupor, the ability of battery powered trains to run further afield, will only increase.
Prototype battery-powered 'IPEMU' carries passengers for first time

 The first battery-powered train to run on Britain's rail network in more than half a century carries its first passengers this week.

The modified Class 379 Electrostar battery-powered train – also known as an Independently Powered Electric Multiple Unit (IPEMU) – will run in weekday timetable service for five weeks between Harwich International and Manningtree stations in Essex.

It was retrofitted and tested by Bombardier in Derby and Leicestershire. The IPEMU is a joint project between Network Rail, Bombardier, Abellio Greater Anglia, FutureRailway and the Rail Executive arm of the Department for Transport.

The partner companies involved in the project believe there is huge potential for battery-powered trains to bridge gaps between electrified parts of the network and to run on branch lines where it would be too expensive to install overhead electrification.

Data gathered during the experiment will be used to help the wider rail industry determine what form a future IPEMU will take, be it a straight battery unit or hybrid.

On the retrofitted Class 379, the DMOS, PTOSL(W) and DMOC cars are standard, but the MOSL car has been converted to a 'Trailer Battery Car (BOS)'. The MCM (motor converter module), CET tank and power bogie have been removed, the pipework and cabling have been reconfigured because of equipment being relocated and the toilet is locked out. The auxiliary reservoir has been relocated to the DMOS, and six battery rafts have been installed, alongside new power cables, trailer bogie, a new button on the cab desk, an additional HMI screen, and data acquisition instrumentation.

The battery rafts fitted to the Class 379 unit contain a battery box, isolation switch, power distribution control panel, battery charging inverter, batteries and battery monitoring system, all mounted within a bespoke, purpose-built rig. Their creation follows the successful testing of several types of battery technologies, including lithium iron magnesium (which are being used for these tests) and hot sodium nickel salt.

A project update for the IMechE by Charles Twort of Bombardier and Sam Barrett of Network Rail said the trial performance targets were: a range of 50km (regional service); an acceleration and speed similar to a DMU; operational cycles of 30km battery and 50km overhead; a lifetime of five to seven years; and a "high level of intrinsic safety".

Any future IPEMU would most likely be designed as a new train and not an adapted unit, to minimise energy consumption, but this project will also provide useful information for retrofit.

It could ultimately lead to a fleet of battery-powered trains running on Britain's rail network, which would be quieter and more efficient than diesel-powered trains, making them better for passengers and the environment.

Network Rail principal engineer James Ambrose said: "We've made terrific progress with this project so far and seeing the battery-powered train in timetabled service is a huge step forward.

"After months of engineering and testing, the train is running just as we would like it. We'll be using this five-week period to gather data on how it handles during passenger service – most travellers will recognise how quiet and smooth the ride is compared to a diesel-powered train."

He continued: "We are always looking for ways to reduce the cost of running the railway and make it greener too. This project has the potential to contribute significantly towards both those goals."

Rail minister Claire Perry MP said: "This is a major milestone in this innovative project, and further proof of our commitment to deliver a world-class rail network fit for the 21st century.

"These trains potentially offer a real alternative where diesel or electrified services aren't suitable, and I look forward to seeing the results of the trials."

Battery locomotives have been used on railways for around 100 years, including in munitions factories during World War 1 to avoid the risk of explosion from sparks emitted by steam locomotives. London Underground currently has a fleet of battery locomotives used on engineering trains when the power is switched off for track maintenance and improvement work.

RTM readers have recalled the two-car battery powered train in use on the Aberdeen-Ballater branch from 1958, and the BR Southern Region motor luggage vans that used lead-acid batteries, for example.

Roger Capel noted on the RTM website: "The 1957 battery train (gather it was a BEMU!) was done in the same works as today's IPEMU, using the two standard 'Derby Lightweight' DMU bodyshells. At that time DB were putting battery railcars into service in Germany, but I think its immediate despatch to the wilds of Aberdeenshire indicates that it was a BR gesture."

But the IPEMU is the first modern attempt to trial battery power for potential passenger services.

Tell us what you think – have your say below or email opinion@railtechnologymagazine.com
A little food for thought.
From Liz James and the North Shore News.

JAMES: Get facts before marking your ballot
- See more at:
Emotion will trump facts every time." — Keith Baldrey, North Shore News, Feb. 11, 2015
Nine days after Global BC's chief political reporter compared the current transit plebiscite campaign with the one that ended with voters axing the HST in 2011, North Vancouver resident Mike Barrenger outlined the confusion shared by many Metro Vancouver voters.
In essence, both men made a plea for reasoned consideration of the facts surrounding the $7.5-billion transportation and transit plan proposed by TransLink's Mayors' Council.
In his Feb. 20 letter to the editor (Transit Plebiscite: Vote Yes or No but Base it on Facts), Barrenger wrote, "Should we make this important referendum decision on the basis of incomplete and inaccurate facts? Absolutely not."
And therein lies the reason for the growing heat being generated in the campaign — what are the facts?
Remembering the 16-year history of TransLink and the 14-year history of broken promises by the B.C. Liberals we see little to persuade us to trust that the plebiscite language, as amended by Transportation Minister Todd Stone, is anything more than politically tweaked wording on a piece of paper.
The long-standing reasons for my distrust are many and still not as complete as Mr. Barrenger deserves them to be. Nonetheless, here are a few of the most important issues voters need to have addressed if they are to make an informed decision on their mail-in ballot:
The first few jump right off the pages of a side-by-side comparison between the mayors' wording and the final version approved by the minister:
The mayors' version called the vote a referendum on its proposed 0.5 per cent increase in the sales tax to be dedicated to the plan.
Stone not only altered "referendum" to read "plebiscite" he removed the words "independent audits and public reporting" from the question. Why?
To use Baldrey's analogy, the HST vote was binding; yet despite all the rhetoric flying out of the Yes side, the only thing certain about the minister's version is that, should the vote go his way, you'll get an increase to the sales tax. But wait! That isn't even a sure thing because the minister changed its name to read "a new 0.5 per cent Metro Vancouver Congestion Improvement Tax" — is that because it's easier to manipulate a congestion or carbon tax than the PST?
Next, Stone omitted "tunnelling along Broadway" in favour of the fuzzier term "rapid transit" and, similarly, changed "Build light rail transit to connect Surrey…" to "build rapid transit…" Why?
To leave plenty of room to substitute still more overly-expensive SkyTrain projects to be built by SNC-Lavalin – the corporation that's challenging serious charges laid by the RCMP regarding its overseas dealings?
Then there's the Compass Card.
Aimed at saving an annual $7 million in fare evasions (buzzer.translink.ca/2012/02/the-costs-of-fare-evasion/) we were told Cubic's system would cost $100-million. But as happens too often in this walk-all-over-us province, 100 soon became 171.
Today, $171M still not being enough for the San Diego company that specializes in "military defense equipment and fare collection systems," the cost sits at over $190M. That's 27 years of lost fare revenue before we break even. Why? Did none of our politicians think of ignoring past and present lobbyists and putting projects to a fair tendering process for a fixed-price contract?
For North Shore readers – $75 million of those dollars would buy three new SeaBuses, leaving $115 million for a revamped Taylor Way intersection and other regional needs.
Now let's talk "improved" congestion:
The Expo, Millennium and Canada Lines reduced congestion, right?
Please don't shout; it's rude.
If efficient public transit systems prevent congestion, the City of London I left in 1956 should have been a beacon to the world.
If transit was the be-all and end-all, why did traffic flow so smoothly during Vancouver's four-month bus strike in 2001?
The facts show that the root cause of congestion has many faces — uncontrolled growth; failure to co-ordinate construction projects; developers' carts put before local infrastructure horses, lack of emergency controls and designated alternate routes in the event of major obstructions, out-of-date traffic-light sequencing, inflexible work schedules that cause daily peak rush hours – all play a part in creating congestion.
Some interesting discussions of congestion issues and deterrents can be found at: roadpricing.blogspot.ca/2013/02/10-years-of-londons-congestion-charge.html  and by Googling "Central London: congestion charging impacts — sixth annual report."
Finally, only because full commentary would be book-length, it is well worth considering an answer given me by Patrick Condon, a University of British Columbia professor with more than 25 years of expertise in sustainable urban design.
"The plebiscite," Condon said, "is a terrible idea.
"By foisting this on us, the province has abrogated its responsibility. It is the province that runs TransLink, not the mayors and it has been the province that has consistently chosen expensive transit systems — the Millennium, Canada and Evergreen lines — based on SkyTrain when local authorities, again and again, have favoured much cheaper light-rail systems," he said.
Explaining that those poor choices mean TransLink must pay for them "each and every year for decades," Condon concluded. "It is these debt-servicing costs that are contributing greatly to the need for the additional taxes that are now the subject of this plebiscite."
How true.
I wonder how TransLink would fare? I guess we will see after the transit plebiscite.
PORTLAND TriMet which runs the area's bus and light rail system is seeing is public approval on the rise despite service issues and financial woes, The Oregonian reports:

"Poll: TriMet public approval rebounding despite MAX service problems, ongoing financial challenges

By

Joseph RoseThe Oregonian/OregonLive

on February 25, 2015 at 7:03 PM

Even as it deals with criticism over gold-plated executive pensions and millions of dollars in deferred rail maintenance, public opinion about Oregon's largest transit agency appears to be on the rebound.

Some 76 percent of Portland area residents approve of the way TriMet is being operated, according to the results of new "attitude and awareness" telephone poll.

That's a sharp acceleration from this time last year, when a similar survey showed the transit agency's approval rating had slipped to 66 percent after a series of service cuts, fare hikes and controversies stemming from embarrassing safety lapses and secrecy at the highest levels of the agency.

DHM Research ran the survey of 1,000 Portland are residents over 16.

The poll, conducted in November, has a margin of error of 3.1 percent.

TriMet's MAX light-rail system had a rough 2014, with switch and electrical problems causing rush-hour meltdowns and even a derailment.

Still, MAX service showed the biggest jump in public approval, from 69 percent in the last survey to 84 percent in the latest census.

The performance rating for light rail could continue to improve in the coming years.

After deferring millions of dollars in MAX light-rail maintenance and rebuilding during the Great Recession, TriMet is spending $9.5 million on replacing 21 deteriorating rail switches, many of which have malfunctioned and caused repeated service meltdowns in recent years, according to maintenance logs and other records obtained through a public records request by The Oregonian.

Meanwhile, 78 percent of respondents said they approved of bus service, an increase of 13 points compared to survey taken at the end of 2013.

"Both riders and non-riders rated the value of our service high," said Mary Fetsch, a TriMet spokeswoman.

Fetsch said residents have an understanding of the importance of mass transit as the region grows.

DHM Research said the resurgence in TriMet's public image is likely due, in part, to the post-recession restoration of frequent bus service and the resolution of the agency's long, ugly labor dispute.

Of course, TriMet still faces the significant challenge of paying for nearly $1 billion in pension and retirement health-care commitments without cutting service or increasing fares to the point where regular commuters stop riding.

The agency is already struggling to return to the ridership levels that existed before the recession.

Other highlights from the TriMet poll

Frequent and regular riders used TriMet most often to commute to work and school, with 75 percent saying the fare value was excellent or good.

Occasional and infrequent riders used TriMet most often to get to "recreational activities" such as sporting events, with "personal business" coming in second. About 65 percent of occasional riders were satisfied with the value of the cost to ride.

People are well aware of the coming Portland-to-Milwaukie MAX Orange Line. Awareness of the project ranked at 80 percent. "Respondents said the main benefits of the new line included reducing traffic congestion, connecting parts of the city and expanding public transportation," according to a TriMet report on the survey.

78 percent of respondents knew about the Orange Line's Tilikum Crossing bridge, which has slowly become part of the downtown skyline over the past three years.
Actually it is not a myth, transit customers do prefer rail to buses. The study does leave out the fact that rail's operating costs can be much less than buses because the tram can operate in multiple units, thus with one driver carrying more passengers.
In the end though, transit customers perceive that BRT is just a bus operating on a tarted up rights of way and for all intents and purposes, BRT is just a bus.
If BRT or guided bus had preformed much better in the past, maybe the mode would be seen in a better light, but BRT tends to cost more and carry less customers than what those promoting the mode had promised.
It must pointed out that the so-called BRT mentioned in the Mayor's Council's transit proposals is not BRT at all, rather just a B-line limited stop express bus, with no signal priority at intersections nor a proper BRT guide-way.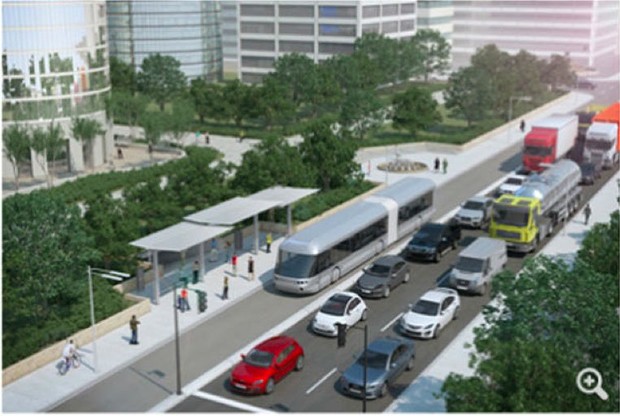 Take a look at the image above. This rendering represents modern bus rapid transit service. The BRT vehicle travels in its own separate lane, free from the constraints of traffic congestion or traffic lights. The bus is sleek and the shelter is pleasant. If you could see the boarding procedure, too, you'd find that passengers buy their fares ahead of time, enabling them to enter quickly through any door, just as they do on a train.
Now take a look at the image below, which shows a modern light rail service. The scenes are remarkably similar. This train travels in the same dedicated lane and even has the same style. The only real difference you'll find, if you look very close, is the faint sign of tracks on the ground.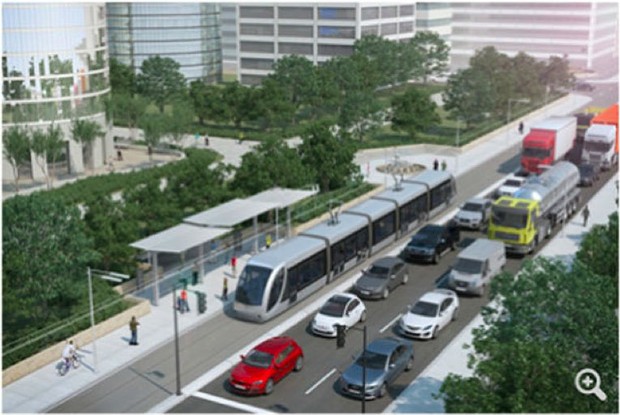 Given what we know from these two pictures alone, there's no reason to suspect these two rides—modern BRT or modern light rail—would be noticeably different experiences. And yet when transport scholars David Hensher and Corinne Mulley of the University of Sydney Business School showed these images to about 1,370 people in six Australian capital cities, the difference in preference was enormous.
For the study, Hensher and Mulley gave survey respondents the two images above, plus two others whose only difference was older-looking vehicle styles (one bus and one train), and asked them to rank the four images in terms of "which one you would like to travel in most." They found that 55 percent chose the modern light rail image, and another 18 percent chose the older light rail. Only about 17 percent chose the modern BRT. Just 10 percent chose the classic old bus.