These excerpts are from a comment by Haveacow, our expert from back east, which  must give one pause, because TransLink is about $1 billion short to extend the Expo line to Langley!
But TransLink is also short of train storage and maintenance space. They desperately need to build the extension of the Expo Line to Langley, which includes the much fabled Operations and Maintenance Centre #4. The problem, they are now $1 Billion short to on the Langley Extension, due to the higher than expected cost of $3.95 Billion.
I also have been told that the final cost for the Expo line extension to Langley could be as high as $4.5 billion.
What also is intriguing, is that production of the MK.3/4 MALM cars may cease after current orders are filled.
Once all these SkyTrain orders come through by 2024-2025, there are no more new upcoming orders for Alstom from the 6 other operations which use the driverless Bombardier LIM propulsion technology.  Some Japanese use a similar technology but are tied through the Japanese government, to only use Hitachi products. The same for the lone Chinese operator, which bought the technology from Bombardier but must use Chinese built vehicles for future orders. The only other rapid transit operation that uses this technology as a functional rapid transit train is Kuala Lumpur, Malaysia and they might buy from Japanese or Chinese companies due to the fact that, Bombardier is connected to a corruption scandal investigation of the former Prime Minister. Their last Mk 3 car order (27/4- section Trainsets) is expected to be filled next year (2022).
The future for the proprietary Movia Automatic Light Metro is quite gloomy and only three of the current seven systems built may be in existence by the late 2020's.
lf other operators plan to stop using their SkyTrain technology. Toronto is replacing the Scarborough RT with a subway extension, which is now under construction.

Detroit will never replace its People Mover and plans to stop operating it in 2025.

New York's Kennedy Airport, the JFK Air-Train operation, although now successful due to its low fair cost compared to a $52 cab ride was a 1 time only airport express line, same as Beijing China's, Airport Express. The debate at Kennedy Airport is either to buy a small amount of new 2 section trainsets or extend either the subway and or the Long Island Railway directly to the airport instead.

Yongin, South Korea, a suburb of Seoul, has had an ongoing court battle with Bombardier over its Everline (a Skytrain like line from the end of a Metro Line to an Amusement Park) which may never get to its promised 75000 people a day break even point. This has forced the city to subsidize the Everline's daily operation and through associated budgetary shortfalls cut back or cut off many city services.

Only Vancouver and maybe Kuala Lumpur (if it can forget the technology's corruption tag) and a possible small order from New York will ever use this technology again. This not enough customers in long term for Alstom. They need hundreds if not, 1000+ orders for the technology to remain useful. It also directly competes with a purely Alstom designed train product, being used in several Metro and Light Metro operations including, the upcoming REM system in Montreal.
Two notes about the JFK AirTrain, which was a private venture including Bombardier, SNC Lavalin, the Port Authority and was part funded by Canada's International Development Agency (CIDA). The line is subsidized by a $7 departure tax and to conform to New York law, the elevated line was designed to operate regular subway cars.
As MALM is a proprietary light metro system, despite the snake oil TransLink, the provincial government and the mayor's council on Transit tries to sell, I would doubt any other company would design a LIM powered vehicle for the remaining three lines, unless the operating authorities paid the full cost!
Like Germany's Wuppertal Schwebeban (monorail), future car orders will need to be custom made. This is also the problem with Seattle's 60 year old Alweg monorail, which original manufacturer is long gone!
Despite premier Horgans election promise of extending SkyTrain to Langley, cost and availability of LIM powered vehicles, may put an end to SkyTrain expansion, once and for all.
What then?
Te Expo Line will probably be extended to Fleetwood, with the completing leg to Langley promised to come at a later date, a la the Evergreen Line, which was the uncompleted portion of the the old Broadway Lougheed rapid transit project.
The competing Broadway subway, which I have been told is also over budget, has so many politicians, bureaucrats, and academics who have placed their personal and career credibility on, that it would be easy for all blame the failure of the Expo Line reaching Langley on the present mayor of Surrey.  His fibbing about the $1.65 billion cost building the line to Langley, which has now escalated to over $4 billion will not go well with taxpayers, who have to ante up another billion dollars on top of much higher living costs and taxes, due to Covid, already stretching people's paychecks.
This begs the question;  Will SkyTrain Light Metro Ever Reach Langley?
BC politics at its best, rubber on asphalt is always a sure vote getter at election time.
Funding for this $235.5 million highway upgrade was announced in 2019, with the federal government committing $109 million, the provincial government with $99.5 million, and the Township of Langley with $27 million.
The 12 km project will include:

Widen Highway 1 to accommodate eastbound and westbound high occupancy vehicle (HOV) lanes in the median between the 216 Street and 264 Street Interchanges
Construction of a new crossing at Glover Road, which will include dedicated 2.5-metre wide cycling lanes on either side and a separate two-metre wide sidewalk
Reconfiguration of the existing 232 Street Interchange and the replacement of the existing crossing, including a three-metre wide multi-use pathway on either side
Replacing the existing railway crossing immediately east of Glover Road
$235.5 million for a mere 12 km of highway upgrading, makes Rail for the Valley's Leewood Study plan for a 138 km., Vancouver to Rosedale passenger service, costing $1,207,692,027.00) or $8.71 million per km in 2021 dollars a very good bargain indeed!
For a cost of just five times more one gets eleven and a half times more transit route, serving major valley cities and providing an alternative transit route, completely devoid of gridlock and congestion.
In BC, blacktop politics wins votes; elevated transit , keeping lanes open for cars wins votes. A coherent and affordable long term transportation plan for the Fraser Valley is a big yawn with local politicians, the premier and the prime minister and thus will be ignored as rubber on asphalt solutions always win elections.
Trans-Canada Highway, seen here at the 216th Street interchange in Langley. (Langley Advance Times file)

Work to begin Tuesday, Sept. 7

Beginning next week, those moving through Langley on the Trans-Canada Highway can expect more than the typical commuter delays drivers have become accustom to in the area.

On Tuesday (Sept. 7), crews will begin construction work in preparation for the Highway 1 widening project from 216th to 264th streets. Overnight lane closures will be in effect in the area between 8:30 p.m. to 5:30 a.m. Monday to Friday, and 8:30 p.m. to 8 a.m. on weekends until summer 2022.

Drivers may also see daytime work in the median, but there will be no daytime lane closures or traffic disruptions, the Ministry of Transportation noted.

To plan ahead, visit www.DriveBC.ca.

Drivers are reminded to follow the direction of signage and flag persons, as well as obey construction zone speed limits.
This post is from 2015 and Bombardier's rail division, including MALM (SkyTrain) is now owned by Alstom and if there is a Conservative victory in the federal election, say goodbye to the Broadway subway and the Expo Line extension to Langley.

Rumour has it that the Conservatives are going to solve regional congestion with new highways and 10 lane bridges.
If true, say adios to SkyTrain, they don't make it any more.
Our friend Haveacow is a Canadian Transportation Engineer and when he says something, we should be listening.
*
Zwei is not an engineer, but under the tutelage of the late Des Turner (Des was a chemical engineer who worked at Shell Oil, who took early retirement and went back to university and earned a master's degree in urban planning) with his meticulous investigation of SkyTrain, light rail, and transit planning in general, I gained more than a passing knowledge of the transit issue.
*
From his correspondence with just about all the major players in urban transit in the 1980's and 90's, I learned a great deal about urban transit with a special focus on SkyTrain and light rail. It was Des, who finally made the provincial Social Credit government, after a stinging rebuke to then Minister Grace McCarthy at a public forum, to divulge the true cost of the original Expo Line and to New Westminster, which was different from what was said by the very same Minister in the legislature.
*
Des studied LIM's and had much correspondence from Professor Laithwaite of the UK, who won a 'gold medal' for his endeavors with Linear Induction Motors. The good prof said that the ICTS was using the wrong kind of LIM, attractive, instead of repulsive.
*
All of the professional of the day, said the same thing about our ALRT/SkyTrain system, that; "it was terribly expensive for what it will do" and "the high costs of the system will come back and haunt us in the future".
*
"If it is not in stock, don't buy it" was a lesson that BC Transit and now TransLink refuse to learn and from what I hear in the news, the current minister in charge of regional transit, Mr. Fassbender (Factbender) seems deaf to any change and wants to continue to build with the very dated and very expensive SkyTrain proprietary light metro system.
*
Factbender seems to have been asleep during the last plebiscite and blunders ahead with a business as usual attitude.
*
Over to you, Mr. Haveacow……..
I found these two adds while I was looking on older Twitter feeds. These two adds are from this year's UITP Conference in Brussels back in September. The first is a add featuring one of the 220 Flexity LRV's serving in the host city. The same class of LRV's that ran in Vancouver in 2010 for the Olympics. Looks pretty nice in a faux cityscape doesn't it?

*

The second add is showing the numbers of current ORDERS for Bombardier Flexity LRV's and Trams, again THIS IS LRV'S ORDERED NOT DELEIVERED which by the way, is over 2000. It doesn't even show the 220 + orders for Ontario based LRT Lines.

*

The add shows a point I have tried to drill into SkyTrain supporters heads until I have been blue in the face. If you want your rail public transit vehicle design to survive, these are the kind of numbers you have to produce for it to be considered successful. Bombardier's Innovia ART 200 & 300 numbers don't even come anywhere close to this!

*

Cheers
Mr. Cows comment on his post.
Opps I goofed! The Toronto and Waterloo orders are in the add however, the Hamilton B Line and Hurontario Line (Just Mississauga, no Brampton) LRV's are not.

However, even though the TTC's 204 LRV/Streetcar order replacing their legacy streetcars, is late the cars are in great shape when they do arrive. A Colleague of mine John, (his real name) who just retired from Bombardier's Transportation (Rail Vehicles) division had an interesting story about the relative financial health of the division. It presently has $30 Billion (US) in back orders roughly 40% is a Flexity family LRV product order. The numbers of orders for LRV and Movia Metro products keeps growing. Their biggest problem is which European factories to shutdown (39+ factories in Europe which is way too many) and when to do it considering, their growing numbers of back orders for Rail products.

One of the few lines unfortunately that doesn't have an increasing number of orders is the INNOVIA Automatic Metro Model 300, those are the Skytrain's, if you were not aware. Bombardier has a 28, (4 car train sets) order for Vancouver and a 56 (4 car train set order) for Kuala Lumpur all being built in their Kingston plant. However, once the end of 2017 rolls around that will be it. Riyadh, Saudi Arabia has a possible future order for 47 (2 cat train sets) order but they want it built there in Saudi Arabia. It's a simple order that may not require the Kingston Plant because the Saudi's want standard electric rotary motors not the LIM propulsion units, The rest of the existing Metro fleet in Riyadh, uses standard motors and they don't want to complicate things, which as a customer is their right! Remember John told me, "The LIM units are just a design option, they are not tied to the product anymore". The people at Kingston are worried!

The real embarrassing thing is what happened with Bombardier's website. I have been pointing out to anyone who had been willing to listen that, the INNOVIA Automatic Metro line section of Bombardier's website was moved out of the rail vehicle section into transportation systems section. Well just before John retired a big s***storm about the website had occurred. Turns out that, both representatives from Kuala Lampur and Vancouver had both been wanting to ask why their rail vehicles were not in the rail vehicle section of the website. They were told that, even though they were both highly valued long time customers and Bombardier would always be willing to design a replacement vehicle for them. It was just more advantageous for them to have the INNOVIA product as a stand alone complete transportation system product because so few people had ordered the technology compared to Bombardier's other rail vehicle lines. Very few would be looking for just replacement vehicles and they (Bombardier) assumed that your transit people would just call them directly because there are no other compatible technologies that you would be able to order, technically. The simple translation, you can't call anyone else our propulsion technology only works with our vehicle designs although, there are others that use LIM propulsion it would be a very expensive option. John was not sure and seriously doubts that, there was a legal requirement that the current users must order from Bombardier unless, they Bombardier does not offer an equivalent product! However, it wouldn't surprise him if their was. I will say again, he doesn't think their is a no foreign product order on the contract but it wouldn't surprise him if there was one. Guess what, the INNOVIA Metro 300 product is again back in the rail vehicle section of Bombardier's website. So someone scarred Bombardier to change their website because the Skytrain technology sure wasn't there in that section of the website 4 months ago. I always check!
When government is spending almost $4 billion to build a mere 16 km of SkyTrain light-metro, extending the Expo line, 16 km to Langley; almost $3 billion to extend the Millennium line 5.8 km; and over $4 billion replacing the Massey tunnel,  provincial politicians must seriously consider the regional railway option.
The taxpayer is begging for cheaper passenger rail options but the politicians seem completely deaf to anything but hugely expensive light-metro.
Regional passenger railways, is one of the missing ingredients for a comprehensive transportation plan for the metro Vancouver and Fraser Valley region, Vancouver Island and the interior.
A regional passenger railway is not a commuter rail, nor a mainline 'varnish', rather it is, as the name implies, a regional railway to serve the region it operates in, offering an attractive and cost effective service that will attract the motorist from the car.
Rail for the Valley; the E&N Railway and the Okanagan corridor are prime examples where a regional railway would provide a user-friendly and affordable transportation service, providing an attractive alternative to the car.
The updated cost for the Rail for the Valley's Vancouver to Chilliwack  regional railway is $1,207,692,027.00) or $8.71 million per km in 2021 dollars.
Add TramTrain to a regional railway, then the scope of operations increases with the much greater flexibility in operation and the greater the flexibility in operation, the more customers transit attracts.
With global warming and climate change so evident in BC, it is time to completely rethink the current "rubber on asphalt" and photo-op ready light-metro schemes in the province and instead, start investing in regional railways, especially TramTrain, with provincial transportation planning.
How to cut half a million car journeys and 32k tonnes of carbon in a year? A new regional railway is the answer

The proposed route the new rail line would follow from Aberdeen to Peterhead.

Plans to revive forgotten railway stations around the north-east won't just benefit rural residents, but could actually help save the planet.

Earlier this year Campaign For North-East Rail (CNER) set out plans to bring modern infrastructure to the "forgotten" corners of Aberdeenshire, reopening rail links to Peterhead, Fraserburgh and Banchory.

Primarily the proposals look to offer a lifeline for what they call "isolated communities". The Buchan towns of Peterhead and Fraserburgh have the dubious honour of being further from the British rail network than any other town in the UK.

But a new environmental report suggests that the impact of reintroducing rail links to the region wouldn't just benefit residents and local businesses, but would also significantly contribute to saving the planet.

Step One: How to save 80 million miles of CO2

According to the group's calculations, the railway could save at least 32,000 tonnes of carbon annually.

That is the equivalent of more than 80 million miles in an average car, or the carbon footprint of operating a UK university for six months.

"Rail is a drastically more efficient way of moving heavy goods and, of course, passengers," said Wyndham Williams, an engineer and one of the minds behind the CNER report.

"The main reason for that is from an engineering perspective. Frictional losses are so much lower – rails on a track are much more efficient than rubber tyres on a road – and the other main reason is that you can also stack up freight trains so they have 50 containers on them.

Which means one locomotive is hauling the equivalent of 50 trucks with 50 diesel engines."

Step Two: How did the Borders Railway do it?

Sitting down to crunch the numbers, the group applied strict parameters to their workings.

Together they analysed everything from vehicle statistics, regional tourism and oil and gas freight, to Brewdog beer shipments, fish tonnages and HMP & YOI Grampian visitor numbers.

These numbers were carefully measured and cross-checked before the group compared their findings to the Borders railway.




The Borders Railway has a lot of similarities to the proposed Buchan route.

Opened in 2015, the Borders to Edinburgh railway line reconnected Galashiels and other local communities with Scotland's capital by rail for the first time in 45 years.

With virtually the same length of track, the same number of stations and a similar population, the two railways have a lot in common.
Comparing the Borders and Buchan railways
Railway                        Length             Stations     Largest town      Population      Pre existing railway         Cost
Borders Railway        35.3 miles           10             Galashiels            14,632                4.19 miles                 £426.28 million
………………………       (56.8km)                                                                                         (6.75 km)                  (CAD ($740.3)
Buchan Railway         35.1 miles          7                 Peterhead             19,270                5.95 miles                £401.79 million
……………………….        (56.50 km)                                                                                        (9.57 km)                (CAD $697.8)
"It's been a blessing really that the Borders railway has been done," said Mr Williams. "We don't have to make guesses, we've actually got data, we've got passenger numbers, we've got costs.

"Peterhead and Galashiels are comparably sized places which are very similar in distance to the nearest big city, so we can lift this data and apply it to the north-east economy to make very reasonable assessments."

Step Three: Rail freight is key

One of these assessments is that 450,000 trips will be shifted from private car to rail each year, but it's not just passengers who will be reducing their CO2 contribution by taking the train.

Significant expansion of rail freight is a key ambition of the Scottish Government, precisely because of how much carbon can be saved shifting goods in this way.

Not only is less carbon released, but Mr Williams and others working on the campaign believe that long haul freight will be moved faster and more reliably on the proposed Buchan line, removing thousands of lorries from congested roads.

"Plus the route will be fully electrified from day one," he said, referencing one of the Scottish Government's other ongoing programmes, a zero-carbon railway by 2035.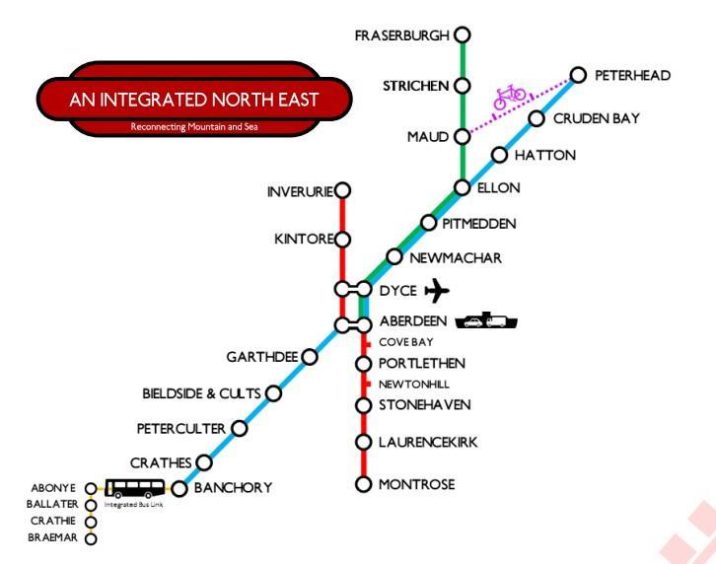 "This means it will use 100% renewable fuel and no carbon would be generated from the journey at all, whether its freight or passenger."

If they're right, the numbers make for a compelling environmental case in favour of the proposed railway.

The investment and upheaval might seem huge from where we are standing now at the starting line but without big long-term projects like this which challenge the status quo, it's difficult to see how Scotland will achieve its green targets.

"I was personally quite surprised by the numbers," said Mr Williams. "I have never looked at anything like this before but the numbers are very compelling. There is a huge contribution to be made here."
An interesting passage from Steve Munro's critique of Neptis, which I was reading to gain some insight into the organization, in response to Mr. Burgess's comment.
Towards the end of this lengthy report, this paragraph stood out.
The whole point of Transit City was to provide improved local, trunk services and to remain on the surface wherever possible to minimize capital costs while avoiding the sterilization of between-station areas with the wide spacing typically found on subway projects.
Let me restate the point of concern.
………. (transit is) to remain on the surface wherever possible to minimize capital costs while avoiding the sterilization of between-station areas with the wide spacing typically found on subway projects.
So now the truth come out, the Broadway subway will sterilize surface business's along Broadway, between the subway stations.
This contrary to what TransLink and the Mayor of Vancouver is saying! This contrary to hosannas being sung about the subway by the Daily hive and the rest of the mainstream media.
The Broadway subway will harm surface businesses and the City of Vancouver and TransLink  are cowards for not telling merchants the truth, that the Broadway subway will sterilize Broadway!
Well, things have changed in a year and a half. The Trudeau Liberals have promised that they will fund 40% of the Expo Line Extension to Langley, but premier Horgan and TransLink have not, as yet, anted up the money to pay for their portion.

With a cost, now around $3.95 billion, the 16 km extension of the Expo Line to Langley, remains about $800 million unfunded and that was with earlier cost estimates!

But Trudeau's announcement made a fine photo-op for the now soon to be called federal election.

As the real cost for the 16 km extension of the Expo line to Langley, now needing a serious updating, combined with the wildfire fiasco and the ongoing Covid waves, again I ask:

Where is this funding coming from?
The chap who uses the avatar Haveacow is a transit and transportation expert and it is a must, reading his comments; I certainly do!
I have been in this game for almost 35 years and the song sung by the SkyTrain lobby never changes.
Those defending light metro in Metro Vancouver never deal with costs.
Current politicians defend the Broadway subway because they say all infrastructure investment is good, while ignoring the costs. Using Toronto Transit Commissions numbers, the annual cost to operate and maintain a 5.8 km subway is around $40 million annually. That is $40 million added to the current operating costs of the light metro system.
Where is the money coming from?
From fares?
I doubt it as the subway is right on the main transit route to UBC where the deep discounted U-Pass is used by students and anyone else working at UBC.
So where is this funding coming from?
Higher taxes, higher fares and a diminished bus service south of the Fraser.
But the local taxpayer is on or near his/hers breaking point paying ever higher taxes, with many older pensioners fleeing the TransLink tax zone, creating even more congestion throughout the Fraser Valley. Zwei is soon to do this as well.
So it is important to consider tempering TransLink's claims and start worrying about costs.
We build with a light metro system that costs up to ten times more to install than LRT (TTC ART Study)
We operate a light metro system that costs more to operate and maintain than LRT
We operate a light metro system that desperately needs refurbishing, yet TransLink remains mute on the subject.
Cost is a dirty word in TransLink's lexicon.
In its entirety.
@Fredinno,

The figure is 15,000 not 1500 passengers per hour per direction for the maximum theoretical capacity of the Skytran network. .

@Rico,

The actual figure given to C.U.T.A. by Translink for 2018 is 14200. I have no doubt that it can vary quite widely day to day (most systems do have a wide variation in daily traffic) up to14800 or even higher, however your the power system and existing track turnouts (switches) and track configuration make operations consistently above that level problematic. New higher speed turnouts need to be installed because the ones used now require the trains to slow down dramatically. Higher speed turnouts are longer with frogs (turnout points) that are at a longer angle, which means all your track geometry has to change as well as having to relocate signalling and power equipment.

Yes, you can even operate for short periods above 15,000 p/h/d but it is not recommended. Any changes to that will also require new signaling and communication equipment and signal processors. The current communication equipment can't react fast enough if you are operating at or beyond its limit. Legally, 1 train every 109 seconds is the operational limit.. This limit is set by Transport Canada and the Transportation Safety Agency. If you want to lower the operating frequency a new proving test and schedule has to be approved. This can take 2 years as long as Translink has the improvements in place so that the testing can begin. One major problem, the existing electrical power system for the entire network is at its limits. More trains increases the electrical resistance on the system that ,lowers the electrical current level, its the electrical current or flow that actually moves the trains.

Most of the cabling that attaches all this track and signaling infrastructure to the power system and the operating system is old and also in desperate need of replacement. The fires you have along the tracks are because animals and birds are building nests on top of or traveling along the cables. Their claws, talons and beaks have cut into the now aging and probably non-pliable overly rigid cable sheaths and are causing shorts. Many of the cable connectors and brackets are also in need replacement.

Can you increase the capacity of each train by increasing the size of the trains (which is exactly what they are doing) yes but again, there are conditions to this. The more you go over the limit of 15,000 p/h/d you severely tax the Citiflo 650 operating system. Bombardier is now no longer updating the Citiflo 650 and Bombardier is switching to a new automation operating system, which means knowing Bombardier, all new equipment will need to be purchased. Bigger trains increase the electrical resistance on the power system, which lowers the current available. Drop the current too low and everything stops. Can you fix this sure, but that requires more new electrical infrastructure, that costs big money!

Much of the existing infrastructure on the core part of the Expo Line is 33-36 years old depending on the construction date, remember it opened in 1986, much of the bridges and concrete could be at least 36 or even 37 years old now. Concrete ages geometrically, the longer you put off refurnishing said concrete, the more the costs grow above just inflationary pressure. I saw much concrete patch work on the underside of the viaducts during my last visit but no rebuilt new concrete sections. The concrete base plate that the track actually sits on needs work and isn't getting it..

@Rico and @Fredinno,

Passenger flows of 25,700 are possible but will require 5 car trains, an updated and new automation operating system, major overhauls of electrical and signaling infrastructure. Track work will also have to be done, base plate and viaducts will require refurbishment to the steel reinforcement and concrete. This sounds simple but it is very expensive and time consuming. Very, very time consuming on an operating line. The existing infrastructure just can't do the passenger flows you want . The vast majority of this work hasn't even been budgeted yet by Translink.

$860 million in brand new signaling infrastructure as well as some tunnel reinforcement and track upgrades have been happening on Subway Line #1 in Toronto. This is the 66 year old, Yonge-University-Spadina-York subway line which is the busiest in the country. The TTC has been shutting down sections of the line on weekends for 7 and half years now to do all the work required. This was the preferred choice compared to shutting the whole line down for 1.5-2 years. It appears they will still be doing work on it well into 2020.After that, they have to do line #2, the Bloor-Danforth Subway Line.

Lastly, more new and larger trains mean a new yard for. You guys are out of yard space. A new maintenance and storage yard for Skytrains was planned in the follow on extension of the Expo Line to Langley. However, a spy of mine just told me that, due to ever increasing land costs in the Lower Mainland of B.C., the yard may have to be built as part of an interim extension because the cost of going all the way to Langley and building a new maintenance and storage yard at the same time is not affordable, unless senior levels of government pay for the whole line. Translation, Translink can't afford its 33% and in this case, even 20% of the expected cost of the line is to high to get to Langley as well as build any other extensions at the same time. Like the extension of the Millennium Line to UBC from Arbutus.
Will this be a game changer for light rail in Canada?
For over thirty years, lawned rights-of-way have been the norm on European tramways and light rail operations; even the Deutsche Bahn (German Federal Railway) investigated lawend rights-of-ways for the main line railways.
Today, the lawned R-o-W's are a fixture of the modern tram.
Not so in Canada, where local bureaucrats, ever so scared of change, would not allow lawned R-o-W's with excuses such as they were a fire hazard or emergency vehicles can't us them (well if properly designed, they can).
Years ago in the early 90's, at a City of Vancouver open house for concepts for the Arbutus Corridor, Zwei had a display of modern LRT, with every picture showing the then revolutionary lawned R-o-W, which contrasted quite well BC Transit photos of start gravel and asphalt R-o-W's.
A gentleman approached me and said" I live on the Arbutus and if they did that (install a lawned R-o-W), I could not mount much of an objection".
The chap from BC transit, overhearing the comment, quickly added; "But here in BC, they would be a safety and fire hazard"
Zwei thinks the real issue was that modern light rail, operating on a "Green" lawned R-o-W would be a positive 'sell' to the public and with light rail having operating characteristics that surpass light metro, would forever relegate the much more expensive and politically acceptable light metro to that dead branch of transit evolution.
Toronto thus becomes the first Canadian city to have lawned-R-o-W's, after years of kicking and screaming entrenched anti Green cabal. Toronto is laying "Green" track and joining the modern world of Light Rail Transit.
The Eglinton Crosstown LRT is going green
The first of three green track areas along Eglinton Crosstown LRT's at-grade section is being installed at Warden Avenue's Golden Mile stop.

Construction of the Eglinton Crosstown light rail transit (LRT) project continues to progress, and one of its latest milestones may have you seeing green.

Portions of the at-grade section, east of Brentcliffe Road, will feature green tracks to help integrate the new transit line with Eglinton Avenue's many parks and green spaces.

The 'green' will be made up of grass and additional foliage planted down the middle of the LRV route.

A mock-up of the green tracks, totalling 16 metres in length and 92 square metres in area, has been installed at the Golden Mile stop east of Warden Avenue.

The installation of each section of green track takes three months after the final design is approved. Each section will include irrigation chambers, water supply, and an energy supply to power the irrigation system.
Not only do the green tracks look good, but they serve a purpose.

Swapping out concrete for grass can help keep temperatures down in the heat of summer. Grass and other vegetation can also act as a sound dampener, absorb rain to reduce run-off, and even minimize the spread of dust.

It's all part of Metrolinx's goal to provide environmentally sustainable light rail transit service across Toronto.

Story by Katherine Abraham, Metrolinx Community Relations Specialist
The shape of things to come for Surrey.
Surrey, ever trying to out do Vancouver to be number one in the city, is building with light metro, because Vancouver has one. The following quote caught my eye.
Gurugram is not a walkable city, and has very limited public transport connectivity for the masses. While it is connected to Delhi by the Metro, and its own Rapid Metro is meant for movement within the city, its scope is limited. A car is almost a necessity for even short distances.
This describes Surrey and Metro Vancouver, both have a very expensive light-metro system, yet the car is the only real means to get around both cities.
With the extension of the Expo Line to Langley, Surrey's future will be etched in stone and like its clone Gurugram, India,
This is the most recent model of a very old format of city-building," says Rahul Srivastava, a Mumbai-based urbanologist and co-founder of design planning and research collective urbz. "It represents the harsh, capitalist vision of taking over space."
The City of Surrey, yesterday's city, being  built today!
Addendum:
Gurugram Rapid Metro struggling to stay afloat, may be forced to stop operations from September 9
India's glittering Gurugram remains a model of how not to build a new city

Gurugram, India's Millennium City, has exploded in recent decades, but beneath its gleaming high rises lie haphazard infrastructure and stark inequality.

Gurugram, a bustling tech and finance center on the outskirts of New Delhi, encapsulates the fast-paced capitalism and bourgeois aspirations of a new town. Nicknamed the Millennium City, it stands in contrast to Delhi's old neighborhoods with their sarkari (bureaucratic) offices and centuries-old monuments.

But come monsoon season, the paradox of Gurugram plays out on its streets. Year after year, rain water floods spanking new roads and underpasses, causing immense traffic snarls, and leaving wealthy residents locked inside their condominiums.

"Gurugram is the most recent model of a very old format of city-building," says Rahul Srivastava, a Mumbai-based urbanologist and co-founder of design planning and research collective urbz. "It represents the harsh, capitalist vision of taking over space."

He points towards Mumbai, which was built on reclaimed land with a similar vision by the British. The city then called Bombay was built as a challenge to Surat, a port town and thriving mercantile centre in the western state of Gujarat, he says. "This meant defeating nature and traditional ways of land use," Srivastava adds. And like Mumbai, Gurugram, too, has slums, hidden from plain sight and away from the multi-million dollar homes that face the sprawling golf course.

Even the most gleaming Indian metropolises are rooted in colonial origins and foundations built on inequality. Gurugram may represent India's future, but its poor infrastructure, segregated housing, and unreliable public transportation mean it can never escape its past. Instead, it has become a beacon of how not to build a modern city.

The lack of any master plan at all—blueprints for a city and its buildings—has played a major role in this inequitable growth. And this gaping hole in city planning has roots in how Gurugram developed as an urban center.

How Gurugram Came Up

Over 30 years ago, Gurgaon, as it was then called, was just large swathes of land. These land parcels were either owned by the state government of Haryana or by wealthy farming families. The first time it appeared on India's socioeconomic map was in 1981, when Maruti Udyog, then a government-owned automobile company, set up its first factory in Gurgaon.

A year later, Maruti Udyog would turn into a joint venture with the Japanese automobile giant Suzuki, marking Gurgaon's first official entry on the global map. And yet, it was still what present-day Gurugram residents see as "old Gurgaon."

"It wasn't until 1995, '96 that the Gurugram we know today began to be developed," says Manish Aggarwal, a managing director for JLL India, a real estate services company. This was the time that DLF, one of India's largest real estate developers and instrumental in the creation of this modern city, built the first large office space for General Electric.

This was a new city, one that DLF envisioned as a space where people work, live, and play. The real estate company began developing Gurugram in phases. In the national capital region (NCR), which includes Delhi and its satellite towns, it was the first time high-rise apartment buildings of good quality were constructed. Delhi's other satellite town, Noida, would not allot land to private developers at the time, so for nearly a decade, Gurugram had a niche for itself in the market. Today, because of that head start, Gurugram has nearly 60% of the 10.9 million square feet commercial space in the region, according to JLL.

"Seeing this progress and the possibilities, other private developers like Unitech also started buying parcels of land and developing them in the early 2000s," Aggarwal explains. Gurugram's high rises  made it the shiny new thing compared to Delhi's low-rise housing and commercial buildings. It was also the first to tap into India's newly liberalized consumer sentiment with large shopping malls.

"I remember while growing up, Gurugram was always the first for many things. People from Delhi would come to visit the malls here," says Amrita Singh, a 24-year-old PR executive with an Indian startup. To her mind, Gurugram was the city of modernity, way ahead of the cities around it. Singh's family was one of the early investors and residents of Gurugram, and she grew up and went to school in this new city.

After a slow start to building, Singh suddenly witnessed an explosion. "All of a sudden, every part of Gurugram was being developed. There was never a time there was no construction in Gurugram," Singh says.

And yet, Gurugram's municipal body had no master plan. "All this construction was happening at an independent level by the developers and was completely haphazard," Aggarwal explains. So much so, that entire condominiums were built without an active sewage connection, or a centralized power grid. This meant property developers had to account for this infrastructure in-house, including arranging waste treatment plans inside the complex. "As a result, the maintenance fee in Gurugram apartments was very high," Aggarwal says.

The master plan finally came into existence around 2009, and now the infrastructure comes under the purview of the Municipal Corporation of Gurgaon. But the 15-odd years of development that preceded this regulatory change had already wreaked havoc on the shared infrastructure in the city.

The roads, for instance, have historically been a problem. "I remember once my sister and I were the last to be picked up from school because our parents were stuck for hours on a rainwater-filled road," Singh says. That story hasn't changed today, and only keeps repeating itself every rain storm.

Singh, who saw New Delhi as an inferior neighbor of Gurugram as a child, has come to enjoy the green and historic spaces in the national capital. But others are still lured to the glamour of Gurugram, potholed roads and traffic snarls aside.

The City of Migrants

Gurugram is a destination for Indians looking for jobs, and as such, it is a city with few "original" residents. Everyone is a migrant, even if their hometown is just 25 kilometers (16 miles) away in Delhi or nearby towns like Manesar in Haryana.

Gurugram's initial boom, which rode on the back of the global corporations setting up offices in the new complexes, also made it not just a city of Indian migrants, but a robust expatriate community. For instance, a Gujarati event organized by GurgaonMoms, an online community of 30,000 mothers, saw Korean, Japanese, and Malaysian expat women dancing to garba tunes, says Upasana Mahtani Luthra, director of PR, events, and the book club at GurgaonMoms. "It is a city that makes you feel welcome at once," she says.

Even those who find Gurugram to be a concrete jungle often relocate for the convenience and amenities. "A friend of mine from Delhi was never a fan of Gurugram, said Neela Kaushik, the founder of GurgaonMoms. "But once she had a child, she found the infrastructure and safety much easier to manage. As was the availability of good schools."

But these conveniences are, of course, not universally shared.

An Unequal City

The gentrification of Gurugram has an obvious consequence in the lack of diversity in the city. "Most kids who I went to school with were either kids of landowners, businesspeople, or corporate executives," says Singh. The city, she says, is very segmented.

The new Golf Course Road has some of Gurugram's most expensive luxury properties. That part of Gurugram is home to the DLF trifecta of the Aralias, Magnolias, and Camellias—three condominiums with designer interiors, concierge services, club houses, and access to the golf course. And then there is old Gurugram. "Some parts of Gurugram look almost rural. Others are practically clones of Singapore or Dubai," she says.

Gurugram is not a walkable city, and has very limited public transport connectivity for the masses. While it is connected to Delhi by the Metro, and its own Rapid Metro is meant for movement within the city, its scope is limited. A car is almost a necessity for even short distances.

Thousands of blue collar workers—guards, gardeners, domestic helpers, janitors, construction workers—all live in the unorganized and hidden slums of Gurugram. While Gurugram cannot move without them, they rarely are a policy focus in the city.

It is also attractive as an antidote to the "old memory of an earlier middle class, tired of socialist rule and Delhi's sarkariness," says Srivastava of urbz. "As a private-sector dominated space, Gurugram is a futuristic site. It can be the backdrop of a dystopian fiction 20 years from now. Ugliness and harsh aspirations sit over there," he says.
Manavi Kapur is based in New Delhi and writes about everything culture, from books, films and art to religion, gender and politics. She has a master's degree in literature from Delhi University and has worked with Business Standard as a feature writer for close to six years. She loves all things vintage and is a strong proponent of postcard writing. When not planning her next museum-centric holiday, she can be found obsessively reading fiction of all kinds.
The real story here is not about replacing the expansion joints on the Sky Bridge, it is what TransLink's new CEO Kevin Quinn (remember the chap worked for Baltimore's MTA, which saw a 2% decrease in ridership every year Quinn worked there)  said, revealing ridership numbers.
For that week, total system-wide boarding's were 48. 2 per cent of pre-COVID ridership levels.
48.2% of what?
TransLink is infamous of not revealing actual ridership numbers, but uses percentages mostly to confuse people. TransLink just gives what ever ridership numbers they see fit.
 "The problem with TransLink is that you can never believe what it says; TransLink never produces a report based on the same set of assumptions."

Former West Vancouver Clr. Victor Durman, Chair of the GVRD (now METRO) Finance Committee.
How many of that 48.2% are using the U-Pass?
Here is the ridership problem in a nutshell; there is no independent audit of ridership on the SkyTrain light-metro system and no one in charge wants an independent audit of ridership on the SkyTrain light-metro system, thus TransLink can claim any number they want and if the numbers are not impressive, they use percentages which are absolutely meaningless.
In Europe and the USA, there are agencies who conduct independent audits of ridership to keep the operating agencies honest as subsidies, as well as future planning in many jurisdiction is based on accurate ridership numbers.
Not so in BC.
SkyTrain in Surrey. (File photo: Tom Zytaruk)

Service from July 31 to August 7, August 14 to August 21 single-tracked between Columbia and Scott Road stations
The SkyTrain bridge connecting Surrey with New Westminster is being single-tracked for upgrades during the biggest bump-up in ridership since the beginning of the pandemic.

Service from July 31 to August 7 and August 14 to August 21 will be single-tracked between Columbia Station and Scott Road Station as construction crews replace expansion joints that are more than 30 years old. TransLink CEO Kevin Quinn told the Mayors' Council on Regional Transportation on Thursday that the joints have reached the end of their useful lives.

"We're going to keep customers moving as quickly as possible between stations," Quinn said. "We'll have trains crossing two at a time in each direction providing 15-minute service during peak periods and at other times one train will cross in each direction providing 12-minute service. And of course we'll have SkyTrain staff out there on-site to assist customers at the affected stations in Surrey and New Westminster, and to monitor service levels."

This is happening as ridership is increasing along the line during weekdays and weekends.

"The week of July 12 was actually the highest week of ridership since the start of the pandemic nearly 18 months ago," Quinn said. "For that week, total system-wide boardings were 48. 2 per cent of pre-COVID ridership levels. As you can imagine this jump in ridership is very welcome news, and certainly a move in the right direction."

Since the summer of 2020 SkyTrain ridership levels plateaued at 40 per cent of pre-COVID levels, Quinn noted, "so we're so pleased to see more customers returning to the system this summer and we certainly expect to see ridership continue to increase in the weeks ahead as more of the provincial health officer's restrictions are lifted."

Quinn addressed the council just six days into his job, coming from Baltimore where he was CEO of the Maryland Transit Administration.

New Westminster Mayor Jonathan Coté, chairman of the mayors' council, remarked that it's "encouraging to see some life starting to come back in ridership increase."

"I was recently taking the SkyTrain and I didn't get a seat for the first time in probably well over a year and a half," he said. "I'm going to take that as a positive sign for our system and I think we know we still have a long way to go and we need to make sure people feel comfortable and safe on our system but we do need to get our riders back, it's critically important to our transportation system and our public transit system."
TransLink is not noted for honesty and candor and the ponderous bureaucracy seems very worried these days. The senior bureaucrats at TransLink's ivory towers in Sapperton, seem to be somewhat desperate.
On Facebook there is deluge of advertisements almost pleading for people to return to transit and woe to anyone who states the obvious that TransLink's product is not user friendly and taking the car is so much easier. Recent criminal events happening on the light metro also has people thinking twice about taking transit.
The Daily Hive, TransLink's "Pravda", now is desperately trying to convince readers that LRT is only supported by older people, with younger people, evidently much smarter, support SkyTrain.
Zwei's take is that older people actually pay the onerous taxes to build and operate SkyTrain, while younger people ride on the cheap with their dollar a day U-Passes.
This smacks of desperation on the part of TransLink, who now must source a minimum of $800 million to complete the Expo Line extension to Langley.
With gas now hovering at CAD $1.70 per litre, those living in Surrey and Delta are  waiting for the boarder to open to access far cheaper gas, currently about CAD $1.10 a litre in Bellingham and Point Roberts!
This has made TransLink executives, with their six figure salaries, generous car allowances and more,  very nervous.
But there is another issue, the environmentally sensitive Serpentine Valley, between Surrey and Langley.
As LRT was originally going to cross the Serpentine Valley into Langley, there was no need of extensive engineering. With the Expo Line being a light metro and being elevated across this peaty valley and cost estimate has been made for this. This means that the current estimated cost of $4.95 billion may exceed this amount by 10% to 20% because of the special engineering needed to carry an elevated guideway across the boggy valley.
This has TransLink very worried.
As well, the growing need for a major rehab of the Expo and Millennium Lines, especially the almost 40 year old Expo line is desperately needed. The Burrard station rebuilding and the expansion joint replacement on the Sky Bridge are just a minor prelude of expenses to come.
The $2 billion to $3 billion rehab of the "MALM" Lines is much needed, but TransLink has nor sourced any budget for this, indeed, most regional and provincial politicians remain woefully ignorant of this near future cost.
Then there are the MALM cars themselves, as Alstom now owns the production Line for the proprietary cars and it seems they are none to happy with this Bombardier product and would like to see the end of it. In now looks like Bombardier was the sole bidder for the last TransLink order but TransLink, ever fearful of the truth, refuses to provide a list of bidders, for fear of revealing the truth that MALM is indeed a proprietary transit system, and a decade of deliberate misinformation may have serious legal consequences.
With huge tax increases needed to keep the SkyTrain light metro operating and with the taxpayer in no mood for new taxes has created a huge problems for regional politicians facing civic elections next fall.
So, it is of no surprise that TransLink has turned to their propaganda machine, the Daily Hive, to regurgitate fake news and alternative facts to any and all who will listen.
It was this very sort of propaganda campaign that got president Trump elected.