Chemnitz Tram-Train Passenger Traffic Doubles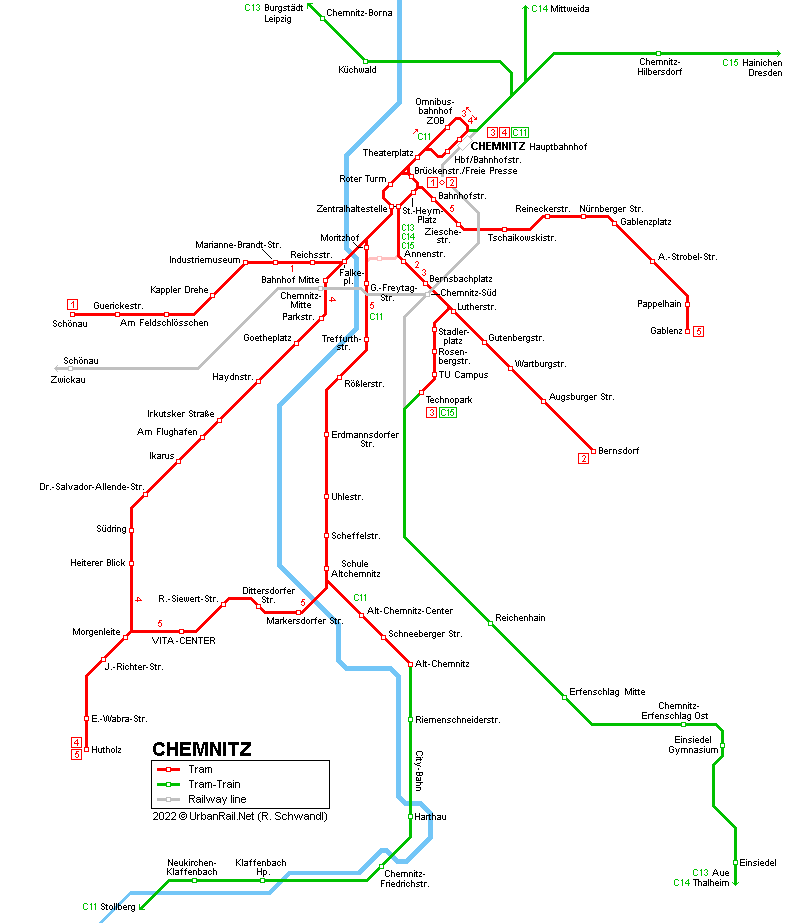 Chemitz TramTrain, using the Stadler Citylink has more than doubled ridership since operation commenced in 2016 by allowing, as in Karlsruhe, unimpeded service (no transfer) to the city centre by using light rail vehicles that can act both as a mainline EMU's or as a streetcar.
This is the lesson TransIink doggedly refuses to learn as they continue to claim high ridership by double counting boarding's with customers forced to transfer to the light metro system.
Verkehrsverbund Mittelsachsen ordered eight NET 2012 tram-trains, with options for two more, for planned use on the Chemnitz Bahn network from 2015. In July 2015, a further four were ordered. Testing of the first tram-trains to be delivered commenced in September 2015. The Chemnitz Citylinks are fitted with a diesel generator to enable them to operate away from electrified routes, and they can also operate from 600 V DC and 750 V DC electrified lines. The centre section is also slightly higher, due to the differing platform heights in Chemnitz, allowing the doors in the centre section to be level with the higher platforms and the other doors to be level with the lower platforms.
The first Citylink entered service on the Chemnitz Bahn on 4 April 2016.
The Stadler Citylink Tram-Trains are also used in Karlsruhe (50); Allicante (9) and Vallencia in Spain (62); Sheffield (7) and soon in Cardiff (36) ; and in Szeged, Hungary (8).
Chemnitz tram-train traffic has more than doubled since the first section opened in 2016.

Sep 3, 2019
Written byKeith Fender
The network is now carrying 5300 passengers per day compared with 2500 at the opening, an increase of 112%, thanks to the introduction of through one-seat-ride services between regional towns and Chemnitz city centre.

The tram-train services are operated for Mid-Saxony Transport Authority (VMS) by City-Bahn Chemnitz using a fleet of eight Stadler bi-mode Citylink LRVs. They serve three routes with the vehicles running as conventional trams on the city tram network which is electrified at 750V dc and as diesel-powered LRVs on lines owned by DB Network running to the east and north of Chemnitz Main Station.

Average daily numbers supplied by City-Bahn Chemnitz before the introduction of tram-trains into the city centre in 2016 and for 2018 when the service had been in operation for more than a year, show substantial growth in passenger traffic. Line C14 from Chemnitz to Mittweida recorded growth of 146% from 650 to 1600 daily passengers. Line C13 linking Chemnitz with Burgstädt is the busiest route carrying 2000 passengers/day, representing an increase of 122%, while traffic on Line C15 Chemnitz – Hainichen, which was the busiest route when it was operated as a conventional railway using DMUs, has grown by 78% from 950 to 1700 passengers/day.

Extension

The next project involves introducing tram-trains on the 47km line running south via Thalheim to Aue. Planning permission to construct a link between Technopark and the existing railway line to Aue was granted by Germany's Federal Railway Authority (EBA) earlier this year. However, the project was delayed during the planning process by objections from residents and environmental groups and is now unlikely to be completed until December 2020 at the earliest. VMS has ordered a further four Citylink LRVs to operate this service.

Three further extensions to the network including re-opening closed railway lines and new sections of tramway are planned by VMS during the early 2020s.