The Myth That Everyone Naturally Prefers Trains to Buses
Actually it is not a myth, transit customers do prefer rail to buses. The study does leave out the fact that rail's operating costs can be much less than buses because the tram can operate in multiple units, thus with one driver carrying more passengers.
In the end though, transit customers perceive that BRT is just a bus operating on a tarted up rights of way and for all intents and purposes, BRT is just a bus.
If BRT or guided bus had preformed much better in the past, maybe the mode would be seen in a better light, but BRT tends to cost more and carry less customers than what those promoting the mode had promised.
It must pointed out that the so-called BRT mentioned in the Mayor's Council's transit proposals is not BRT at all, rather just a B-line limited stop express bus, with no signal priority at intersections nor a proper BRT guide-way.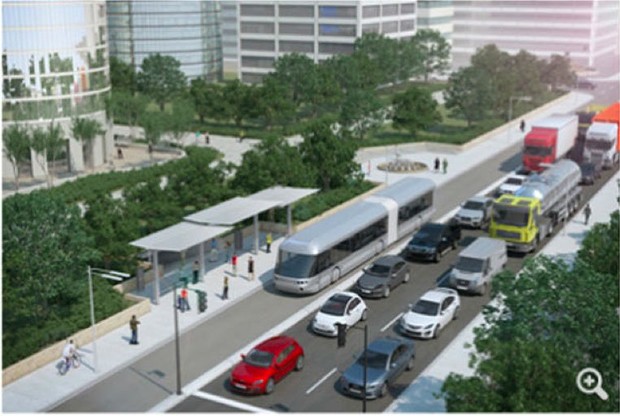 Take a look at the image above. This rendering represents modern bus rapid transit service. The BRT vehicle travels in its own separate lane, free from the constraints of traffic congestion or traffic lights. The bus is sleek and the shelter is pleasant. If you could see the boarding procedure, too, you'd find that passengers buy their fares ahead of time, enabling them to enter quickly through any door, just as they do on a train.
Now take a look at the image below, which shows a modern light rail service. The scenes are remarkably similar. This train travels in the same dedicated lane and even has the same style. The only real difference you'll find, if you look very close, is the faint sign of tracks on the ground.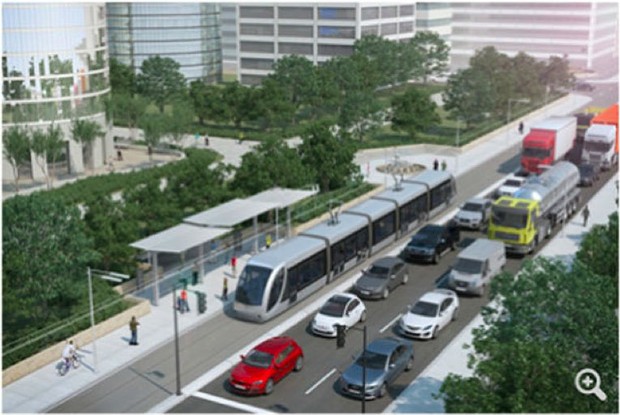 Given what we know from these two pictures alone, there's no reason to suspect these two ridesai??i??modern BRT or modern light railai??i??would be noticeably different experiences. And yet when transport scholars David Hensher and Corinne Mulley of the University of Sydney Business School showed these images to about 1,370 people in six Australian capital cities, the difference in preference was enormous.
For the study, Hensher and Mulley gave survey respondents the two images above, plus two others whose only difference was older-looking vehicle styles (one bus and one train), and asked them to rank the four images in terms of "which one you would like to travel in most." They found that 55 percent chose the modern light rail image, and another 18 percent chose the older light rail. Only about 17 percent chose the modern BRT. Just 10 percent chose the classic old bus.