Provincial Election In 2024!
SkyTrain has always been used at a photo-op for provincial elections.
And the David Eby NDP government is no different. Announcing SkyTrain extensions win votes. Whether spending huge sums of money actually does anything to improve transit is another question.
Contrary to the claim in the news article; "The project is estimated to cost $4.01 billion.", the cost to extend the Expo Line to Langley will cost more, much more.
In excess of $6 billion for the 16 km line, metro politicians are being quietly told!
Not included include in the cost:
Operations and maintenance centre #5, estimated to cost $500 million to $1 billion.
A complete electrical rehab of the Expo and Millennium lines, estimated to be around $2 billion.
The resignalling of the Expo and Millennium Lines to permit higher capacity, contract let to Thales, $1.47 billion.
The extra cars needed to operate on the 16 km line, estimated at six to seven 5-car train-sets, cost unknown.
The replacement of all switches on the Expo line with higher speed switches to permit an increase in capacity, (this means expensive structural work on the guideway), cost unknown.
Station expansion and rehab, cost unknown .
All this for a 16 km line that according to TransLink will carry fewer customers than the Broadway B-Line.
In BC, at election time, photo-ops cutting ribbons for SkyTrain makes good politics, that is, until the bills start coming in!
Surrey SkyTrain expansion work set to begin in 2024: Fleming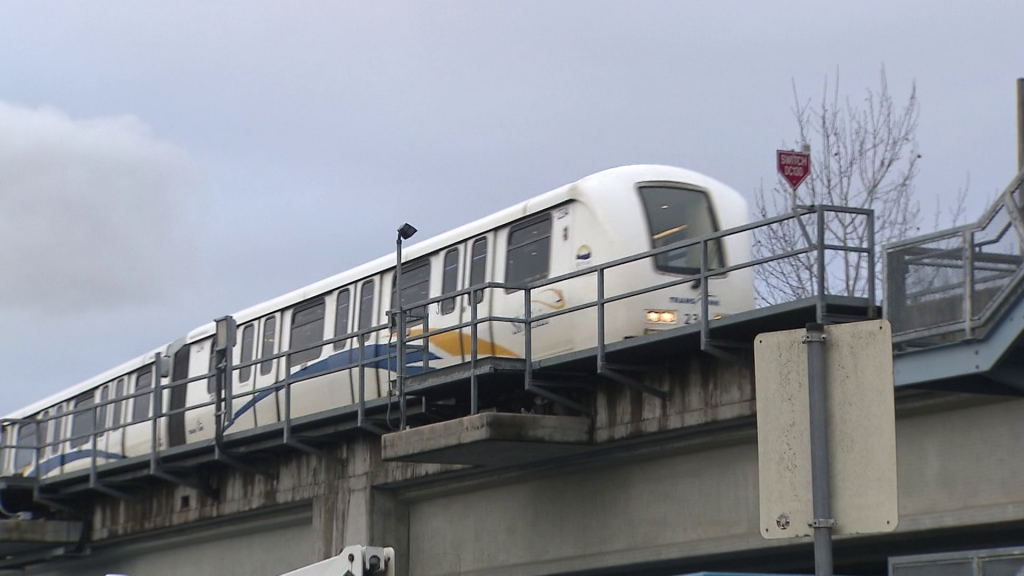 Posted November 9, 2023 8:28 am.
B.C.'s minister of transportation says the province is working to keep up with Surrey's growing population.
Rob Fleming says part of that means ensuring the city has the transit it needs, adding work on the multi-billion-dollar Surrey Langley SkyTrain is set to begin in 2024.
"We expect, in a few months' time, in the new year, to be awarding contracts. The procurement is proceeding, we will begin this project in 2024 and it's all going to be done in one phase," he explained Wednesday.
---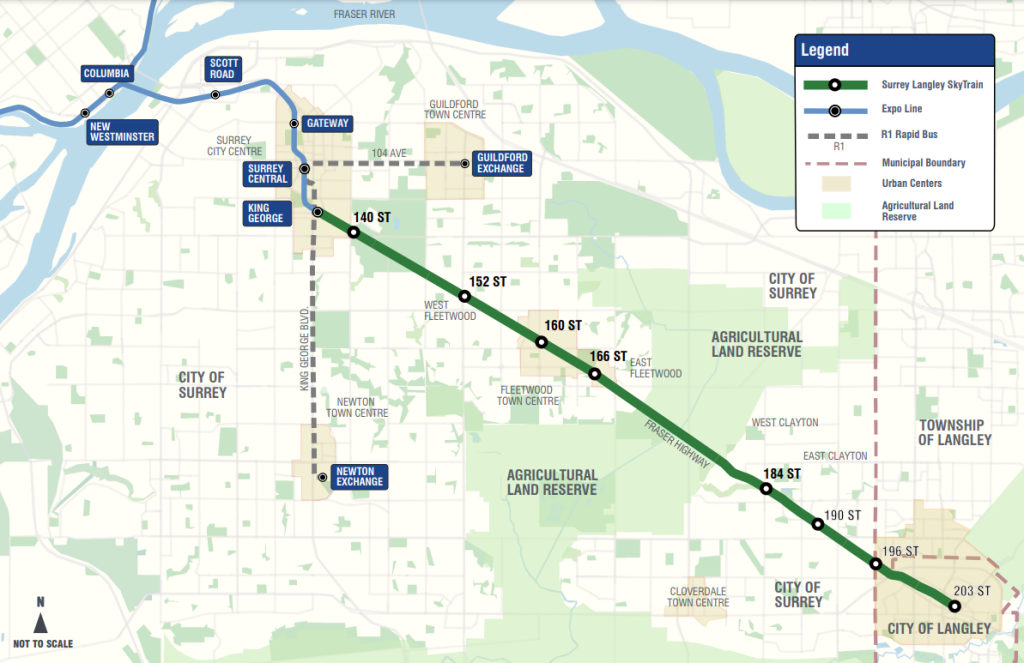 ---
Fleming says 430,000 people use transit in Surrey every day. Given that figure, and the anticipated increase in the population, he explains it's important to "stop chasing growth and start shaping growth."
"We know that Surrey is poised to become the largest city in the province, perhaps by 2036. It has grown by 100,000 people just in the last decade, and TransLink has put out an investment plan that calls for new bus rapid transit," the transportation minister said, adding there is a lot of opportunity in Surrey to rebuild transit.
Fleming provided an update on the SkyTrain project to the community Wednesday night. That came the same day the province tabled potential legislation focusing on new housing builds near transit hubs. Following that announcement, the TransLink Mayors' Council stressed the need for additional funding to "dramatically expand public transit service."
"The fact is, you can't have transit-oriented development without transit, and TransLink's current system is unable to keep up with growing public demand for services across this region," said Mayor Brad West, the chair of the Mayors' Council.
"With transit in Metro Vancouver currently frozen at 2019 levels, we need to see both the provincial and federal governments commit funding to dramatically expand public transit service. This legislation represents one of the most significant changes to land use and zoning policy that we've ever seen in this province, but it won't succeed unless our three levels of government work together to deliver better transit in this region."
The province says the SkyTrain expansion will extend the Expo Line 16 kilometres from King George Station in Surrey to 203 Street in the City of Langley, with eight stations and three transit exchanges.
The project is estimated to cost $4.01 billion.